WalMart Canada: Batman Hero Buddies 2 In 1 Plush Figure | Was $40 Now $10 (EXPIRED)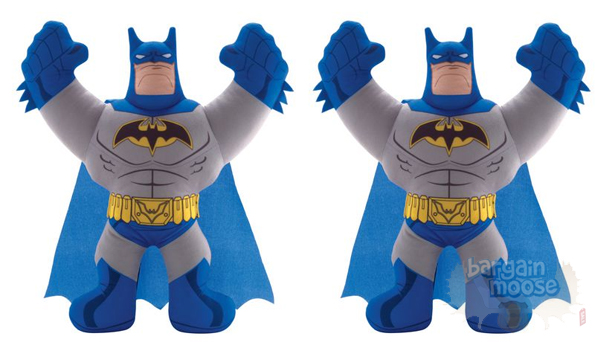 It's a bird! It's a plane! It's... a Batman Hero Buddies 2 - In - 1 plush figure for only $10?! Yes, I know that was a botched Superman reference, but this deal is so hot that it doesn't even matter - WalMart currently has this adorable plush Batman figure on clearance for $10, and it normally costs $39.94. That's $29.94 in savings! Plus, you'll be able to get free shipping! What a deal!
This Batman Hero Buddies 2 - In - 1 Plush Figure is a very interesting item. You can hear this iconic superhero speak when you press the emblem on his chest, and you can even quickly change his form into an all black armour mode! They had some cool products available when I was a kid, but this is one cool plush figure!
When it came to superheroes, there weren't many of them that really intrigued me. The ones that I tended to like the most were Batman, Spiderman, and the X-Men. However, even though I bought several comic books back in the day, I was more interested in reading the many advertisements that littered those newspaper - like pages (and they said I was a normal child!)
I really enjoyed the latest Batman movies, and it's safe to say that the franchise has enjoyed a very successful resurgence after Batman Begins was released in 2005. After all, the previous Batman film seemingly turned away many fans (Batman & Robin) - I guess people just didn't want to see George Clooney and Arnold Schwartzenegger duke it out on the big screen.
This Batman Hero Buddies 2 - In - 1 Plush Figure normally costs $39.94 at WalMart, and $30.06 on Amazon. I've included a brief review from a satisfied Amazon customer below:
My grandson is two years old and a batman lover. This item was so much fun for him. It was large for him and soft and cuddly. He was able to play other it and sleeps with it. It is very easy for him to play with.
If you or someone you know is a fan of The Dark Knight, then this plush is a fantastic buy! Get them while they're still available, Bargainmoosers!
(Expiry: Unknown)