Walmart Canada: 84% Off Boy's Dressy Suits - Now $3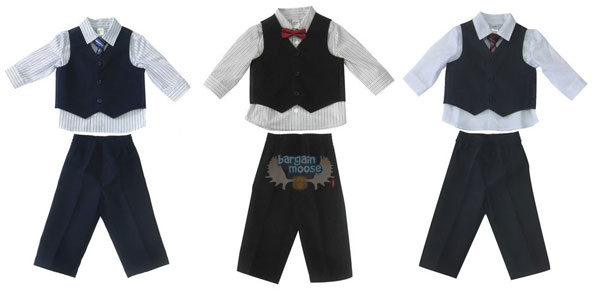 Too cute! While supplies last, you can get boy's dressy suits on clearance for $3 each instead of their regular price of $18. That's an 84% discount!
Each suit comes with dress pants, a shirt, a vest and either a bow tie or neck tie. There are three different dressy suits to choose from:
Plus, they are nearly all available in every size with the exception of the last one, which is sold out in the 18/24m size. Other than that, you can get sizes from newborn all the way up to 24 months. If I had a little boy, I would totally get every size in every suit, simply because you never know when the occasion might call for it. Even if the occasion doesn't call for it, you could still dress up your baby in these adorable combinations. The bow tie one in particular would definitely look too cute for words on any regular day.
For those of you getting married or planning to attend a wedding soon with a little boy in tow, then the black one would definitely be a great pick and a budget-friendly one at that. Your little one is sure to get loads of attention too! In fact, although Walmart.ca's website doesn't have any reviews for either ones of these outfits, I did find a review on a very similar suit on Walmart.com:
It is hard to find stylish dressy attire for little boys. I was thrilled when I saw this outfit.
These dressy suits are made by the brand George, which is definitely a brand I like and have been buying clothes from for my baby girl. Unfortunately the material consistency isn't listed, but my guess would be that these suits are 100% cotton as clothes by George typically are. Another major advantage is that you can use the pieces separately as well. For instance, have your little guy wear just the dress shirt with a pair of jeans one day and as a suit the next day.
Just for the heck of it, I calculated how much it would cost to get each suit in every available size without the discount and the total came all the way up to $252. With the discount, you would be looking at just $42 for a total of 14 suits. How amazing is that?
Even better is that Walmart offers free shipping, even if you get just one suit!
(Expiry: Unknown)