Walmart Canada: 50% off Stanley Screwdriver Set - Was $20 | Now $10 & Free Shipping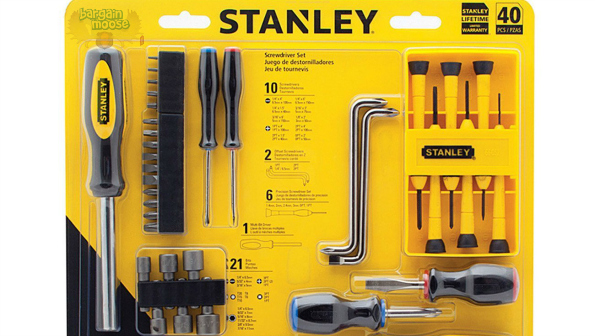 Walmart Canada is offering 50% off a couple Stanley Tool packs. We mentioned the Three Tool Combo pack before, but now the Stanley 40pc Screwdriver Set - STHT60105 is on sale from $19.98 down to $10 with free shipping.
This set has everything you need to screw things into a wall, to assemble a shelving unit, or to assemble furniture. The set includes 10 screwdrivers, six-piece precision screwdriver set, two curved screwdrivers, one multi bit screwdriver, and 21 bits. That is probably more screwdrivers than you will ever need, but you cannot beat the price.
The entire set comes with the standard limited lifetime warranty from Stanley. Stanley is a household name in tools so I was surprised to see such a good deal on a set of their screwdrivers.
While you may think that you do not need a screwdriver, these things come in super handy. I was assembling a barbecue one day and would have really liked one of those curved screwdriver extensions. Sometimes screws are in the most annoying places to reach. In addition, it is nice to have multiple screwdrivers so you can assemble a bookshelf or more with some help. These tools are good for the job site and fit in right at home in your garage or home tool drawer.
It is amazing how many times I reach for a screwdriver when I really didn't think I would use mine much. The last time was to replace the entire smoke detector in our apartment. The detector was screwed into the ceiling so I had to fish out the proper bit to get it down and put the next one up.
I price compared this screwdriver set with a couple other retailers. Amazon Canada has the set on sale from $41.99 down to $10 but you would have to pay for shipping or get your cart up to $25. Thus, Walmart's deal is better as it includes free shipping. I also price compared with Lowe's, where the set is on sale from $19.99 down to $14.99. Lowes.ca only offers free shipping at $49 now.
If you are buying this set, then I highly recommend picking up the Three Tool Combo Pack that Eva blogged about as well. That set includes a measuring tape, interchangeable screwdriver, and a Quickslide knife. Together, both these sets will flesh out your tool kit.
(Expiry: unknown)