Walmart.ca: Eureka Rally 2 Canister Was $60 | Now $39 & Free Shipping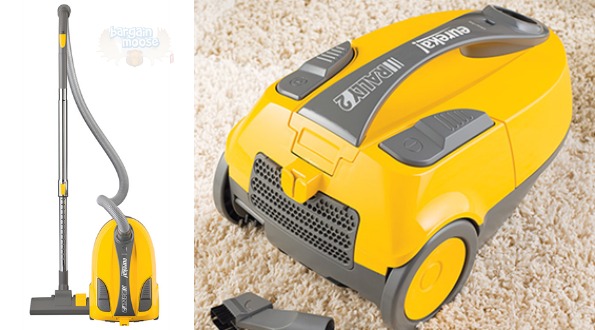 Did your vacuum cleaner just hit the dust instead of suck it up? Look at the Eureka Rally 2 Canister that is on sale from $59.96 down to just $39 with free shipping.
Price comparing this unit was very difficult, as I could not find it many places in Canada. I looked the product up on Eureka's website where the Rally 2 retailed for $79.99. McHardy Vacuum Canada sells the same unit for $69.97 with free shipping on $99 or more.
This vacuum cleaner has been discontinued, but it is still a great little unit for cleaning up around the house, the car, or the garage. The Eureka Rally 2 Canister is lightweight (less than 12 lbs) and has a long cord for versatile cleaning. The cord automatically rewinds for quick storage. It is also a fairly small unit for those with limited storage space.
For cleaning up high, the telescopic wand and on-board tools give you an extra-long reach so you can clean the corners of the ceiling or vacuum the tops of your curtains. According to Walmart Canada's website, there is a bonus Power Paw included. I have no clue what that is!
Reviews of the unit are very positive - from the price to the suction. As this reviewer says:
Lightweight, easy to move, with strong suction and an excellent tool for sofas and such. Picks up cat hair well. Very inexpensive, especially for its quality and capabilities. The two downsides are its rather loud somewhat high-pitched ringing noise and a rather stiff hose attachment at the front that doesn't (yet, anyway) swivel easily.
Another reviewer also mentioned that the vacuum is rather loud. The person was startled at the sound but quickly grew to love the cleaning power associated with the unit. The price most certainly helps. It has been on sale before (as I can tell by the comments), and people were super pleased with the quality for the price.
This is a bagged unit, so you will need to pick up some bags for it. The manual will let you know why style of bags is compatible with the unit. As you can get a pack of bags pretty cheap these days, I think this unit is well worth the price. I also rather love the shocking yellow colour.
Are you interested in what this vacuum can do? Check out this YouTube video:
(Expiry: unknown)