WagJag Canada: $19 for 4 Pairs of EZLACES (a $47 Value) - Shipping Included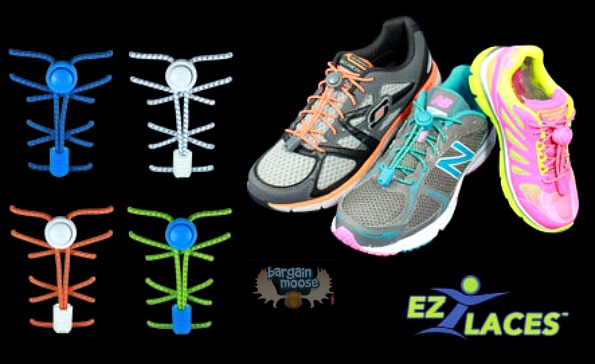 WagJag Canada has a great deal back on that is perfect for back to school shopping.  Get four pairs of EZLACES for just $19 when the regular price is $47.
Now, the last time this deal was offered at WagJag, you were able to get it for $21.  They have made this deal even sweeter by offering it for just $19 this time, saving you even more money. This time around, you will be saving a whopping 60% on the deal instead of last time's 55% off.
There are five different colour sets to choose from so there is something for everyone, whether you are young or old, male or female. The laces are waterproof, rot-proof and interwoven with reflective threads to enhance your visibility at night. This is perfect for anyone that likes to run at night or walk their dog when it is dark out, which makes these perfect for night time runners.
These EZLACES enable you to slip your shoes on and off with nary a knot-undoing, and adjust them however you like once they're on with the lace clip. Each pair includes two 42-inch elastic laces, two locks and two lace clips. Since you get four pairs, that will outfit four different pairs of shoes! I will be able to have a set for every person in my family with this deal for just $19. That is pretty sweet!
My son's preschool actually requires the kids to have something like this on their shoes if they don't yet know how to tie them.  Even if they can tie their shoes, they suggest this.  It is faster for the teachers switching indoor shoes and outdoor shoes for recess, it is safer for the kids because the laces can not come undone and they look pretty cool as well. All around, these are a great item to have for back to school.
There is zero cost for shipping so you will not be hit with any additional charges at the checkout or upon delivery.
There is a limit of 15 buys per person but you may buy more as gifts. You will get  your shipment within two weeks of the deal closing on Wagjag.
(Expiry: 25th August 2104)