WagJag Canada: 1 Year Chatelaine Subscription, $10 Chapters Gift Card & Tote for $25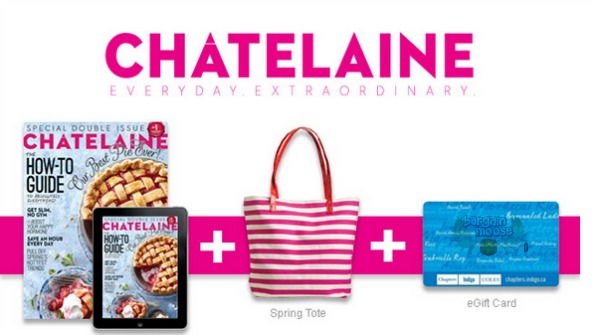 I always love a good magazine deal at WagJag but this one is a really great one. You can get a one year Chatelaine subscription, a free spring tote and a free $10 gift card to Chapters Indigo for just $25.
The free $10 Chapters Indigo gift card has no expiry date on it so you can save it for whenever you want to use it.  The Spring tote is a pretty pink striped tote that would be perfect for the beach.  Lastly, the 1 year Chatelaine subscription is both in print and digital so you can read your issues anywhere you want to!  The value of this entire deal is $50 so you will be saving a whopping 50% through WagJag Canada.
If you are unfamiliar with Chatelaine, you will get 12 issues in total over the year.  It offers fresh & modern recipes, entertaining ideas and menu planning tips, fun home projects and simple cluster-busting solutions and has a ton of fashion advice for women. It is a well rounded woman magazine.

You will have until May 17th 2014 to use this voucher and you buy one for yourself or as many as you would like for gifts. Something like this would make a perfect Mother's Day gift. It looks like you spent so much money but it was just $25.
Additionally, you will also get free shipping and the taxes are included so there will be no hidden fees or costs added on.
It doesn't say how long it will take for your first issue to be delivered but it is usually 4-8 weeks after you redeem your voucher and the deal expires.
(Expiry: 1st May 2014)