Visions Electronics: Toshiba Blu-Ray & Online Media Player Was $110 | Now $58 & Free Shipping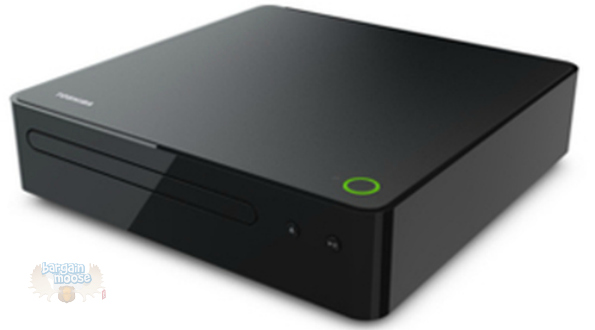 Save on entertainment for the entire family with this Toshiba Blu-Ray Disc And Online Media Player (BDX3500). Originally $109.99, the Blu-Ray and media player is on sale for $58 with free shipping.
Blu-ray players alone retail around $65+ for the name brand players, this this deal on a Toshiba Blu-Ray and Media player is quite impressive. This device will not only play Blu-Ray disks, DVDs, and audio CD playback, it also has a built in Wi-Fi network with Miracast. Miracast is a fantastic technology that allows you to seamlessly display multimedia between devices without cables or a network connection. That means you can share your screen, media, and more from compatible devices like a smartphone or a tablet.
With the built-in Wi-Fi, you can stream content from the web and watch content from Netflix (with subscription), YouTube, CinemaNow, and more. If I was to compare this device to anything, it would be the unholy love-child of a Chromecast and a Blu-Ray player. I was looking at Blu-Ray players alone when i found this and even a basic Sony player retails for $68.
Of course, the best price comparison is finding the same device at other stores. Here is a price comparison sheet of the Toshiba Blu-Ray Disc and Online Media Player (BDX3500) at other stores. The device retails for:
$103.76 @ NCIX.com
$98 @ Dell Canada
$99 + shipping @ Amazon Marketplace
$99 @ The Source Canada
$99 + shipping @ Newegg Canada
I could not find this device anywhere near Vision's Electronics price! While there are no reviews on Visions, I did find a few elsewhere. One person from Newegg said:
The WiFi reach was my main concern, the reach is fantastic. The home interface is impressive, it kind of reminds me of the x-box 360 interface. SO FAR, all around great player! Very Happy with it.
Another reviewer on The Source said:
Picture quality looks good I have wired connection and all apps works as expected. You need a HDMI port to use this player.
This device essentially turns your television into a SMART TV and provides you a Blu-Ray player all for one small price. With free shipping on this device, this truly is a great purchase to upgrade your family room. Quantities are limited.
(Expiry: 24th June 2015)