Up to 78% Off Authentic Minecraft Plush Toys Under $7 & Free Shipping @ Amazon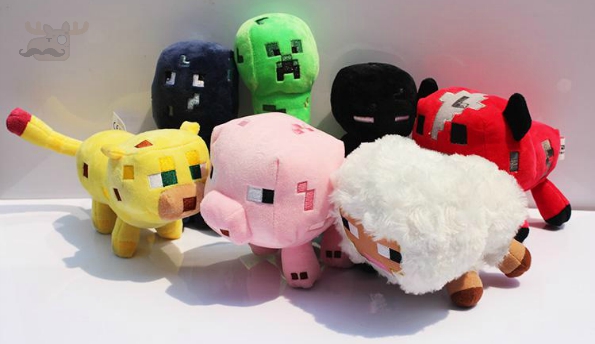 I am pretty excited about this deal because Minecraft is so big with kids right now! I found a selection of authentic (officially licensed) Minecraft plush toys on sale up to 78% off with free shipping through Amazon Marketplace sellers. All these Minecraft plush toys are now $7 and under per toy.
I have only chosen toys that are said to be authentic or officially licensed (or made by Minecraft), that have good reviews from buyers on Amazon Canada, and that have free shipping. Let us start with the best deal! The Minecraft Overworld Enderman 7-Inch Plush Toy is an officially licensed plush that is currently on sale from $23.29 down to just $5.17 with free shipping.
Next, we have the Minecraft Baby Ocelot Plush on sale from $23.29 down to $5.33. this little plush reminds me of a rodent of some sort... but a very yellow cube-shaped rodent.
The Minecraft Squid Plush may be my favourite because of all those legs and the deep blue colour. Originally $23.29, this cool little plush is on sale for $6.05 with free shipping.
If you want a companion for your Ocelot, then pick up the Minecraft Overworld Baby Mooshroom 7-Inch Plush Toy that also walks on all fours. Originally $23.29, this plush is on sale for $7.
All of the above plush are either Minecraft plushies themselves or officially licensed plush made by Toy Zany that are sold by Moonguiding.
There are another two Minecraft plush toys by different sellers that I also wanted to mention. This authentic Minecraft Baby Sheep Plush was $23.29 and is now on sale for $6.18 with free shipping from BestBying. Lastly, the Minecraft Bat Plush Toy is on sale from $23.29 down to $6.95 with free shipping from Brilliant Zone. These are both listed as 100% authentic Minecraft toys.
While I could find a few of these cheaper on AliExpress... they are not authentic Minecraft toys thus the quality and attention to detail may be lacking. The above sellers have very high ratings on Amazon and the individual plushies have very good reviews. Given the price, the popularity of Minecraft, and the free shipping - I figured this deal was pretty sweet.
You can find the 'buy' bottom under the wishlist button.
(Expiry: Unknown)