Up to 50% Off @ Hatley & Free Shipping on ALL Orders This Weekend Only!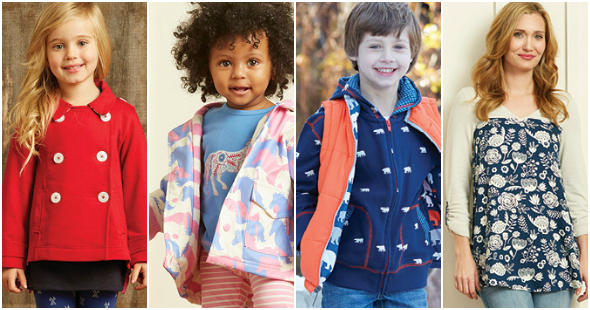 Hatley has such great, quality stuff and -- this weekend only -- they're offering totally free shipping on all orders! Free shipping offers are the perfect opportunity to pick up one or two small things you've been eyeing that may have not met the usual minimum spend threshold. Effective now through Sunday January 10, your order will ship to your door for no extra charge. Your free shipping will be automatically applied at checkout and no coupon code is needed.
What better time than now to check out Hatley's Outlet sections? Though the regular Outlet isn't packed at the moment, be sure to check out the Gift Shop Outlet, as well. It's chock full of smaller items for every member of the family and most are 50% off! They even have cute accessories like journals, and iPhone cases for $3! There are funny tees and boxers for the guys; a couple of cute one-pieces for baby; and women's tops and sleepwear. For kids, I love these Fuzzy Fleece Hats. They're listed in both the boys' and girls' sections but the selection is the same in each so choose whichever critter your little one desires. They look so warm and cozy and how cute are the little animal faces? I love the little penguin. These Fuzzy Fleece Hats were originally $25 but have been discounted by 50% to $12.50. And even if you just want one, remember it will ship for free!
Still in the Outlet, Hatley has a few cute sweaters for women, though sizes are a bit limited. Available in small and medium, this Blue Crush Striped Hoodie has been cut to flatter your figure so you can be comfortable with a tailored look. Also half off the original price, this hoodie is just $42.
Of course, there is a huge selection of regular priced items, as well. I took a look at the baby section and saw these printed Fleece Bundlers. We actually have an older one of these from Hatley but it still looks brand new. It has been a lifesaver in this strange weather we're having here in Southern Ontario where it's not cold enough for a big, puffy snowsuit but too chilly for just a blanket. We put this on our little guy and can cover or uncover his hands, feet and head as the temperature demands. They're available in 3 different prints: Farm Tractors, Dragons and Soft Deer; and are $54 each.
Take some time to browse Hatley this weekend while you don't have to worry about a minimum purchase for free shipping. I know you'll find something perfect, whether it's for yourself, your significant other or the kids. And if you've never shopped with Hatley before, this is the perfect time to get acquainted with their incredibly high-quality clothing and accessories. You won't be disappointed!
(Expires: 10th January 2016)