UGG Australia Sheepskin Earmuffs Were $75 | Now $50 & Free Shipping @ Browns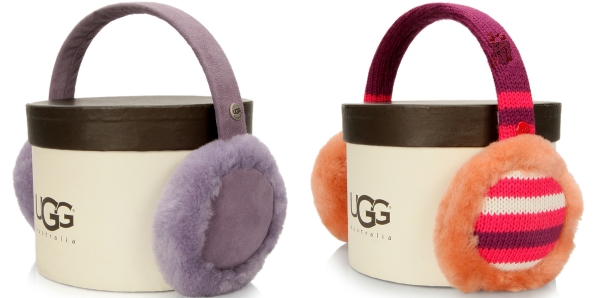 I hate toques so I wear a set of earmuffs during the winter. Toques always mess up my hair, which is already very thick and acts like a toque itself. Ear muffs are perfect as they just fit over my head with a band and keep my ears nice and cosy. I suddenly developed a large case of brand envy when I saw these UGG Australia Sheepskin Earmuffs on sale from $75 down to $49.98. This weekend, you will also receive free shipping on all orders from Browns, thus saving you an extra $5.
These ear muffs are made of real dyed shearling. The fluffy inside is not only warm but also so comfortable you will want to wear these all the time. These ear muffs come in a gorgeous UGG box that can be reused for storage.
The purple pair is more of a solid - one colour - set while the fuchsia is a combination of different colours that all work together. The purple also has a suede band whereas the fuchsia features knitted accents around the band and on the back of the ear muffs. I have to say, I may like knitted products but I think the colour choices for the fuchsia are a bit over the top.
These Women's UGG Australia Shearling Sheepskin Earmuffs are the most darling things. I want a pair in purple as I have a jacket I wear throughout the fall and into winter that is purple. It would be a delightful match.
I think these are a fantastic deal as the cheapest ear muffs I could find at UGG were $65 and UGG charges around 12% for shipping. Other places I could find the ear muffs (primarily in the USA) were selling or reselling UGG ear muffs for $90+. Given that you will pay at least $20 for a good set of ear muffs, and usually $30... the extra $20 bill for a quality, designer set of ear muffs is worth it to me. I believe in scrimping on some things and indulging on others: especially when those 'others' are related to warmth!
(Expiry: Unknown)