TRENDnet N300 High Power Easy-N-Range Extender Was $50 | Now $27 & Free Shipping @ NCIX Canada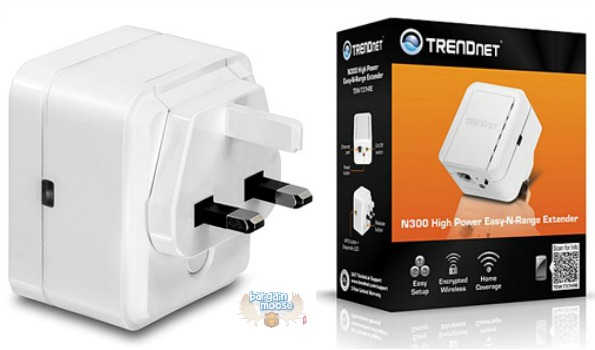 The TRENDnet N300 High Power Easy-N-Range Extender is a great deal today @ NCIX. This wireless booster was $50 but you can get your own now for $26.99.  Free shipping applies to this item.
Do you find there is a certain spot in your house that the Wi-Fi always drops out? My parents have higher ceilings and a living room that is off the back of the house. There are certain places in the living room if you try to video call or stream media the internet gets a little rocky. It is especially frustrating when I am trying to video chat with them so they can talk to my daughter. My three year old will now say "Service not available Mama" when the reconnecting logo pops up on the screen.
Fix those wi-fi trouble spots with the TRENDnet Easy N Range Extender. This plug and play device will go directly into a wall plug. Sync up this device with your router to give you more wi-fi coverage. Setup looks easy, it should only take you a few minutes to connect this with most wi-fi routers. This device also comes with a three year limited warranty. It also looks like from the pictures that the plug has several different types of adapters.
Price Comparison
Most of the other retailers have this extender for about $40 to $50. I was originally writing to tell you about the great sale on this extender at Dell Canada, but NCIX Canada has them beat!
Reviews
Reading the reviews, buyers seem happy overall with this extender. One or two people said it took longer than a minute or two to set it up, but it does not seem like they are frustrated either. A few mentioned the unit is a little bulky on the wall. Most mentioned they were pleased with the internet boost they received. Several people mentioned they were interested in buying a second one for another area of the house. One happy reviewer said:
Does the job and added some wifi coverage to another floor of the house. It's only 2.4ghz but for the price you can't go wrong. Took a couple WPS attempts to sync up but did eventually get paired.
I may buy this for my mom so we can video chat without interruption. While I do not expect this will improve the internet in the entire house, I would expect that it could easily help a room or two where the internet is a little wonky. Grab yours while the price is low.
(Expiry: 15th April 2015)