Toys R Us: Vtech 3-in-1 Race & Learn Was $35 | Now $26 & Free Shipping (EXPIRED)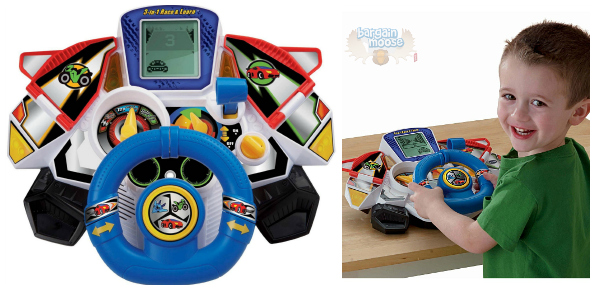 Toys R Us had discounted the Vtech - 3-in-1 Race & Learn (English) toy from $34.99 down to $25.87 with free shipping.
This is an educational driving toy for little kids. The racing toy is a 'three in one' model where your kids can choose to drive a car, a jet, or a motorcycle. There are nine courses to enjoy. Through play, the Vtech Race & Learn toy teaches letters, spelling, numbers, shapes, and more. There is a gear shifter that plays real racing sounds and the controller vibrates to enhance your child's play and simulated driving experience. Overall, this is one cool little toy for just over $25. One parent said:
I bought it for my 1 1/2 year old for Christmas he really loves it. It has a regular driving setting and he loves to just drive and turn it on and off. It's cool that it turns into a motorcycle or airplane but his favorite is the car. Any little kid that loves driving their parents cars or playing on racing arcade games will love this. There's also two learning setting that I'm sure he'll use when he's older.
Most all the reviews are pretty positive. The toy is designed for children ages two to six but it all depends upon your child's development.
A quick price comparison revealed the following prices at other stores:
$34.98 @ Walmart Canada (French)
$34.95 @ Mastermind Toys Canada
$34.99 @ The Source Canada
Amazon Canada is the only place with the same price as Toys R Us. However, they only have two left in stock and they do not have the option for in store pickup. Thus, I thought the Toys R Us deal was worth mention. You can get the toy shipped to your home for free. However, if you want your new educational toy sooner, Toys R Us has the option of picking up in store with same day service.
I know many kids that would love this cool driving simulator. My favourite would be the jet setting as I often considered becoming a pilot when I was younger. Of course, I have now driven both a motorcycle and a car now. That jet is still on my checklist!
(Expiry: unknown)