TopBox: LOULOU Spring Beauty Booster Only $33 ($100 Value) & Free Shipping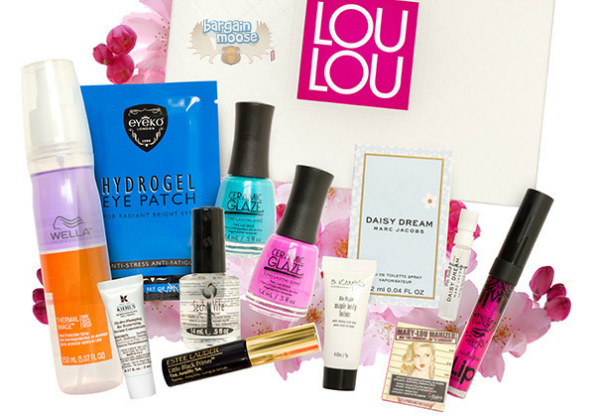 TopBox Canada is full of great new beauty boxes! I picked out the LOULOU Spring Beauty Booster as it has a retail value of $100 but only costs $33 with free shipping.
This box is loaded full of goodies worth approximately $100. Included in the box is:
B.Kamins Bio Maple Lotion (7g)
Ceramic Glaze Mermaid's Tale (14 mL)
Ceramic Glaze Shell Me All About It (14 mL)
Estée Lauder Little Black Primer (2.8 mL)
eyeko hydrogel Eye Patch (3 g)
Kiehl's Hydro Plumping (5 mL)
Marc Jacobs Daisy Dream (1.2 mL)
Medusa Assorted Lip Gloss (6 mL)
Seche Vite Dry Fast Top Coat (14 mL)
TheBalm Mary-Lou Manizer Bronzer (0.57 g)
Wella Professional Thermal Image (150 mL)
In my research, I found that the Wella Professional Thermal Image alone retails for around $19.95 and up to $22 at the places (In the US) I was looking. Ceramic Glaze nail polish retails for $11 per bottle at Shoppers Mart - and you receive two full size bottles. Even between these three items, your total value is over $40 already - and that is just three out of eleven products.
Along with the eleven products, you will also receive a four-month LOULOU physical magazine subscription or an eight-month digital subscription. The value of the subscription adds on a few dollars as well.
This is a great little bundle full of summer essentials. Mascara, lotion, nail polish, and bronzer are just a few of the items included.
Now, there are some other great boxes as well. There are a couple boxes for just $9 each that are well worth the cost. The FLARE Fearless Beauty Box and the FLARE Classic Beauty Box are well worth the under $10 price with free shipping. Each box comes with a coupon code for hair colour that has a retail value of up to $16. If you use the voucher code, you are already saving money and getting pretty much everything else for free. Each box includes two to three full sized products as well as some travel-sized products. I would estimate each box is worth at least $30 before you redeem the 'up to $16 worth' voucher.
These beauty boxes make a great gift for you or for friends. They are an excellent way to try out new products without always buying the full sized containers. Recently I tried a hair oil sample that I just loved, and it made me buy a full size bottle!
(Expiry: Unknown)