Topbox: Limited Edition Topbox Kits $40 - $49 (Up To $160 Value)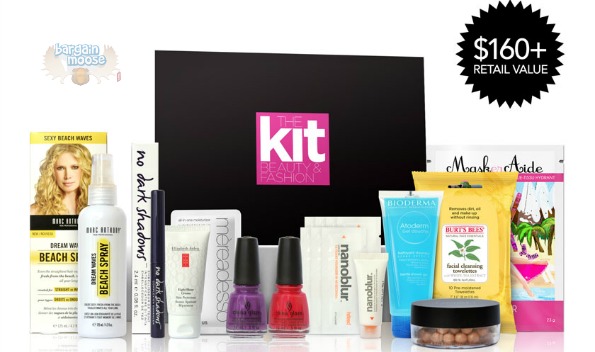 Topbox Canada is offering limited edition TopBox Kits for only $40 to $49 when they each have a value of $140 to $160. To sweeten the deal, they throw in a free magazine subscription with each one and free shipping.
To clarify: these are available to non-subscribers of Topbox. You do not need to be a member of Topbox's usual beauty box subscription service to buy one of these boxes. There are three new summer limited edition kits available:
Limited Edition The Kit Topbox
This kit includes 13 products to test out including well-known brands like Burt's Bees and Marc Anthony along with some great cosmetic companies like China Glaze and GOSH Cosmetics. Enjoy products for your face, nails, hair, and skin. The kit will cost you just $49, and is valued at $160+. Receive a free one-year subscription to The Kit Magazine.
Limited Edition FLARE Hot Summer Picks
This kit includes 10 products for you to try from brands such as Shu Uemera, Aveda, and essie. Included in your box is a sampling of such decadent products like scented oil, gradual tan lotion, and even a pair of Blush Riley Drop Earrings from Jewels and Aces. The kit will cost you $40, and has a value of $140+. You will receive a free one-year subscription to Flare and free shipping. You also have the option of gifting the Flare subscription.
Limited Edition Chatelaine Topbox
This topbox is also valued at $140+ and is currently being offered for $40 with free shipping. It includes brands such as Ceramic Glaze, Be a Bombshell, Kiehl's and Yves Rocher. There are nine products in all and seven of them are full size. The Sweet Pea Mango Papaya Soap looks the most interesting to me. You will also receive a free one-year subscription to Chatelaine magazine with your Topbox.
The last Topbox listed, the Limited Edition LOULOU Summer Topbox I blogged about before so you can click through that link and check it out. These three above are the new offerings and, indeed, the Chatelaine Topbox just started shipping on June 15th.
These Limited Edition TopBox Kits are a great way to sample new brands and products without paying full price. If you have a couple girlfriends, it is always nice to pick up a couple different boxes and split the contents based on skin shade and colour preference. I use to split beauty boxes with my Mom when I was younger.
(Expiry: unknown)