Toms Canada Promo Code: $10 Off $60 & Free Shipping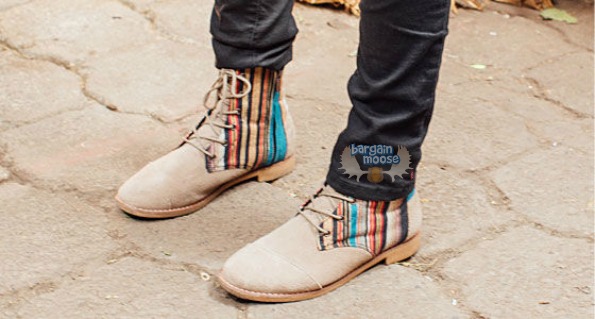 In comes fall and I start thinking about putting my sandals away. I love open-toed shoes so it really pains me to have to start covering up my tootsies, but it also means that I can get my Toms out again. I think I may love Toms more than my sandals. Maybe its a tie. Use the coupon code to get $10 off of your $60 order.
Click here to shop @ Toms.ca now
Coupon Code: LABOURDAY
Discount: $10 off $60
Expiry: 7th September 2014
While I said I have a pair of Toms, I'm thinking that you really can't have too many pairs. The ones I have are the classic red, but I'm thinking of getting something with a funky pattern now too. These classic Live Your Dreams are adorable and must get in my closet! These were $65, but add the coupon code and get them for $55.
I'm wondering if the Toms boots will be as comfortable as their slip-on shoes. These woven alpa boots are tres cute! I don't have anything like these, so they would be a good addition to my shoe wardrobe. They were $140, now $130 with the $10 off.
I'm so in love with the tiny Toms too. I wish I knew about them when my kids were wee. These black and turquoise ones are to diet for. How cute would they look on a little one waddling past? These are $35, but get yourself two pairs and pay only $60 for both.
With rainy season coming, you know you and the family need some rain boots. I absolutely adore these red and black youth rain boots for kids. While they are $55, if you spend just $5 more or buy something else to go along with it, you'll get that $10 off.
I've got more good news for you. Not only will you get $10 off when you spend $60 with coupon, you'll also get free shipping on all orders (whether or not you spend $60). Normally, you'd need to spend $75 to get free shipping, but now you can spend what you like. If this coupon code doesn't do it for you, I noticed there are a few others on the Toms coupon page in the forum.