The Twilight Saga: Extended Editions Combo Pack (3 Movies) [Blu-Ray] Only $12 @ Amazon.ca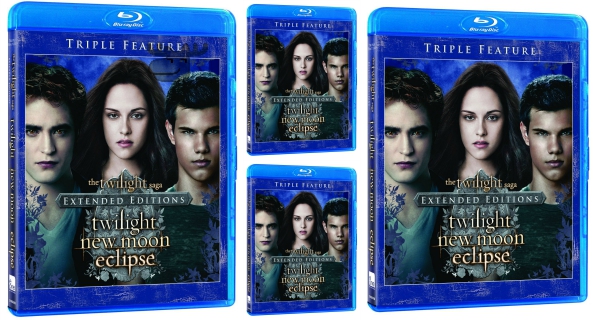 For all those Twilight die-hards in the crowd, I have found the perfect deal for you! Amazon Canada has discounted The Twilight Saga: Extended Editions (Twilight / New Moon / Eclipse) [Blu-ray] from $24.99 down to $11.99. Yes, for $12 you are receiving three Twilight movies - the extended editions - in Blu-Ray. Shipping is free with Prime or free on $25 or more.
Note: you can still buy the movie even when it goes out of stock as Amazon will just fulfill your order when they get stock back in. Each extended edition Blu-Ray movie works out to just under $4 when you purchase this set. While not all five movies (representing four books) is included in this set, it is still an incredible offer once you check out the price comparisons.
First, I found the same set at Best Buy Canada for $19.99, but it is sold out. Even the DVD set at Best Buy was $14.99 and is also sold out. I tried to find the extended versions in individual disks, but they seem not to exist. Thus, I just price compared the individual movies in Blu-Ray as another form of comparison:
Twilight [Blu-Ray] - $7.49
New Moon [Blu-Ray] - $12.49
Eclipse [Blu-Ray] $7.49
As you can see, buying the movies individually is extremely expensive. This is by far the best way to score the first three Twilight Saga movies even if you are not that interested in the extended bits.
I have read all the books and I have seen the first couple of movies. I actually really like the first movie - consider it a guilty pleasure that I like to watch with a cup of hot coco while curled up under a blanket. The teenaged angst and pretty vampires are sort of like feeding candy to a baby. I am not a huge fan, but that movie is like a really good sappy chick-flick. Sometimes it just fills a certain need.
While Twilight has already had its hay-day, there are still plenty of fans out there who have stuck with the series throughout and in-spite of the popularity. For any Twilight fans in the crowd, this would make an excellent addition to their collection. Extended versions are awesome in my book because they show things cut out of the movie that often make the movie even better!
Thanks to Mooser Daniel for sending me this deal.
P.S. Maybe use this movie set as one of your items for this Amazon Canada promo.
(Expiry: Unknown)