The Source: Nexxtech Portable Travel Outlet Was $25 | Now $12.50 & Free Shipping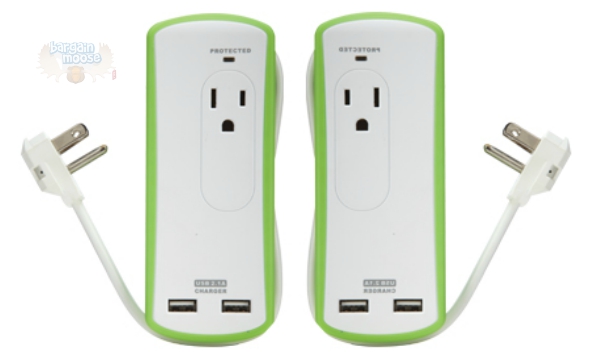 Enjoy 50% off the Nexxtech Portable Travel Outlet that was $24.99 but is now $12.50. Use coupon code TS499 for free shipping on any purchase meaning this little travel outlet will ship for free.
The Nexxtech Portable Travel Outlet comes with surge protection to keep all your electronics safe. Plug your electronics into two AC outlets and two USB ports. Charge multiple items at the exact same time and enjoy peace of mind with surge protection.
This is seriously the traveller's best friend and it even works at home as well. You can plug your razor and your hair dryer into the AC outlets and still have room to charge a couple smart phones via the USB ports. USB to wall chargers usually cost about half this price on the cheap side, so this portable travel outlet with two USB ports and two AC ports really is good value.
I could not find this unit many other places, but I did find it listed on eBay for $24.99. 35 units have sold at this price with only two units left. i think some buyers need to learn how to price compare!
Reviews are great as well. One reviewer said:
Nice and small and compact, easy to pack in suitcase. Good to have two usb plug ins and short cord that wraps around the base.
I like that the cord wraps around the base. It creates a nice clean and compact profile for stowing in your luggage. Another reviewer said:
This is a super product. Small in size and very useful in traveling. Will use with a adapter for United Kingdom next trip. Could not be better in rooms were the power outlet are very limited. Super product. Thank you The Source.
I think this unit would be perfect in a dorm room. Often, outlets are pretty limited to one or two while you may have way too many things that need power. Use this outlet to give you an extra outlet and two USB ports for charging external batteries, cell phones, tablets, and more.
As an added bonus, The Source Canada is currently offering a $25 savings card for FREE with every order. No minimum order amount is mentioned in the fine print. Thus, you should receive a savings promo card that will give you $25 off $150 or more between August 13th and 26th.
(Expiry: 12th August 2015)