The Mint: Arctic Exploration 12 x 25 Cent Pack - $3 + Free Shipping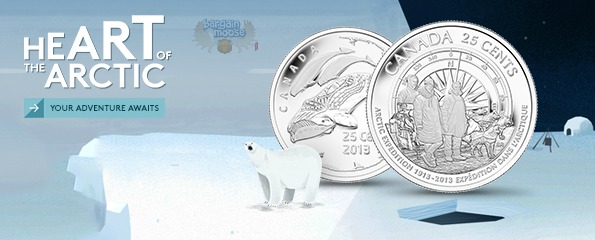 The Royal Canadian Mint is selling a stunning twelve pack of 25 cent coins of the Arctic Exploration. Six coins are of the exploration, and six coins are of whales. The twelve coin set is being sold at face value with no tax and free shipping!
This set only costs $3 and with free shipping it is a fantastic deal! There is a limit of two per household and I just bought two of them! They are stunning coins and even if you only keep one of each you can use the rest as regular currency as you are only paying face value. Honestly, these are a great gift idea as stocking stuffers.
So the Canadian Mint never offers free shipping, that alone makes this deal worth taking advantage of. I am pretty sure that if you add anything else to your cart the free shipping goes away. This is only for lettermail: no other mailing form. I am pretty happy with this and can't wait to receive them. I'm not big on the expedition one but the whale coin is just so darn pretty!
Check out our free shipping page for more stores that ship for free.
(Expiry: unknown)