The Candi Factory Coupon Code: Free Shipping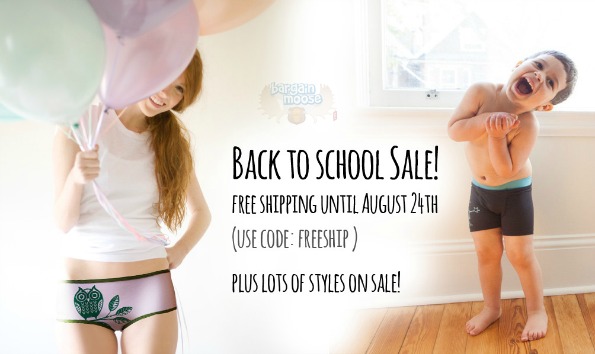 The Candi Factory is not only offering free shipping with the following coupon code, they are also offering up to 25% off select underwear and swim skirts right now.
Click here to shop @ The Candi Factory now
Coupon code: freeship
Discount: free shipping
Expiry: 24th August 2014
Since we last talked about the sweet little Canadian boutique Candy Factory, they have branched out. They now make children's underwear and women's swim skirts.
Let is talk swim skirts. They are made out of material you can swim in with an underpants under layer and a skirt over layer. If you don't like exposing your derriere at the beach, these retro little swim skirts are for you. They come in three different colours: green, red, or yellow polka dot. Originally $48, they are now each on sale for $30.
I checked out the men's section because I like buying my husband awesome underwear. There is nothing more awesome than the Aliens have landed boxer briefs. Oh my lord I want a pair for myself they are so awesome. Seriously, if anyone from Candi Factory is listening, make these for women. Originally $30, they are now on sale for $22.50.
The kids' section is full of great underwear for girls and boys. For the girls there seems to be a major polka dot theme, with undies made of organic cotton and costing only $6, originally $8. For boys, bring on the robots in a bamboo/cotton blend. Originally $11, they are now $9.
There are also four glorious styles of underwear on sale in the women's section. While my favourite pair is not on sale (stormy), I think this pair of Pink Owl undies is very cute. The undies are pale pink with a brown trim; while the owl itself is green and matches the branch that he is standing on. Instead of $20, they are on sale for $15.
As with any brand you are not familiar with, be sure to consult their size chart to make sure you get the best size for you. With free shipping, you are saving a bit. Orders up to $60 usually cost $3 to ship (one of the most reasonable shipping policies ever). Orders over $60 cost $6 to ship. This coupon will potentially save you up to $6 on your order.
I have tried Candi Factory underwear before and they are super comfortable. As advertised, they do not ride up your butt.
You will find this Candi Factory coupon on our Bargainmoose coupon section.