Sunbeam Dual Blade Twin Window Fan Was $35 | Now $28 & Free Shipping @ Amazon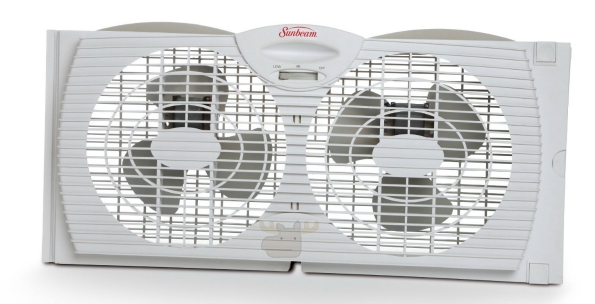 I have been waiting for a twin window fan to go on sale for ages. Now that summer is almost over, Amazon Canada has one on sale. The Sunbeam Dual Blade Twin Window Fan was $34.99 but is now on sale for just $27.99 with free shipping.
I price compared this window fan with other online retailers and found out that it costs $39.99 @ Staples Canada, $31.55 on sale @ Sunbeam Canada, and $36.96 @ Walmart Canada. Amazon Canada's price is the best!
This fan is the answer to hot days and cool nights. It draws in cool air from the outdoors or can be used to draw out stale indoor air. With two 6" fans build in, it will help cool your house off in the evening. It is a fairly quiet fan system that can be used in the bedroom, living room, or any other window that can fit a 7" wide fan system. To fit your window, the fan has an adjustable extender screen and a bonus extender panel to help secure it into larger windows.
This fan is designed to fit most double hung and slider windows. I have slider windows in my kitchen and in my bathroom where this would work far better than the stand fan I have been blocking in the window in an attempt to bring in some cool air. My exposure is all sun during the summer... so staying cool is not an option.
These fans are quite sought after in the summer when you have no air conditioning and the heat is already a couple degrees above the forecasted high of the day. I learned quickly this summer that I should add on two to three degrees to whatever the day's high was supposed to be... and that would be the real temperature. Of course, on Vancouver Island we had a major drought this summer. I think Edmonton got more rain than Nanaimo did.
Given the discounted price on this unit and the free shipping - which most other websites that sell this unit do not include - I think it is a very solid buy.
(Expiry: 6th September 2015)