StormTrooper Stool Was $55 | Now Only $28 @ Walmart.ca (EXPIRED)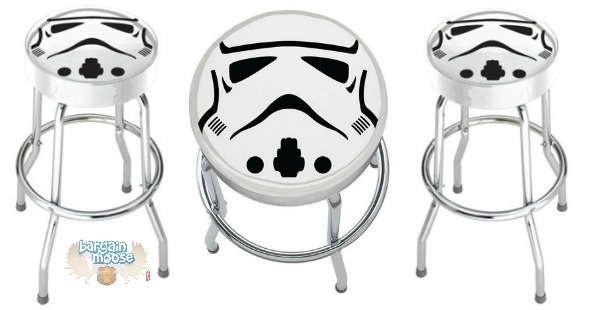 Growing up with three brothers, I can't even begin to tell you how many times I have heard the expression "May the force be with you".  Now, you can have that saying in your household with this deal from Walmart Canada! You can purchase this fully licensed StormTrooper Stool for only $28, which was regularly $54.88.
This StormTrooper stool is clearance priced at $28 from Walmart and is already limited in quantity, so if this is a purchase you want to make, do so. This officially licensed stool is about 50% off the regular price. The Darth Vader Stool was also on sale for this price but has already been sold out.
This looks like more of an automotive type stool to me, but it may also be excellent for the man cave, gaming rooms or other areas of the household. It is the standard workbench height so could also be great just as a garage stool. It does not swivel, though. The top is made of a vinyl covering that is thick and designed to result in a comfortable seat. This stool may take some assembly upon arriving at your door, but it should be easy and come with instructions as well.
I couldn't find this StormTrooper Stool at any other online Canadian retailer, so if you want to purchase this stool in Canada I would get it from Walmart while you still can. I did find it at Home Depot in the US for $45 and Ebay as well. I would complete this purchase now so that you don't have to order from the states to get it later, as that would be more costly!
There is one five star review for this StormTrooper Stool:
We got this StormTrooper garage stool to go with our Darth Vadar and Boba Fett stools that we purchased. This product arrived very fast and it was cheaper than our other stools. We love it and it looks great. In fact, it is always the first think someone comments on when visiting our home.
Walmart.ca also has the best shipping option around - always free. This applies to tiny and large products, with no minimum spend. Walmart Canada's shipping is typically fast too, so you still have the chance to receive this item in time for Christmas.
You can view more stores with free shipping & no minimum spend in our forum.
(Expiry: Unknown)