Starfrit Canada: Up to 50% Off & Free Shipping (EXPIRED)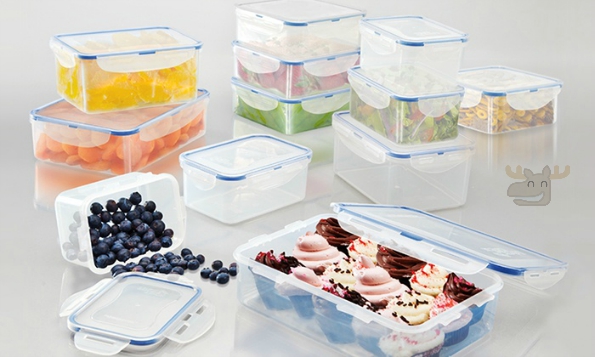 Starfrit Canada is offering up to 50% off select storage solutions and more. In addition, and perhaps more importantly they are offering free shipping with no minimum for this weekend only.
While the sale section is not extensive, it does have some very nice storage solutions for your kitchen. Personally, I like the Lock & Lock Ceramic 520 ml Round on sale from $9.99 down to $5. It will carry around two cups of soup, liquids, and leftovers. It is an excellent storage solution for the fridge and can also be taken to work.
For a slightly larger container, pick up the Lock & Lock Ceramic 610 ml Round. While it is not substantially bigger, it does have a larger capacity that may come in useful. it is nice to have storage containers of different sizes. Originally $11.99, the 610 ml round is now only $6.

This Lock & Lock 5l Container with Flipflop Lid looks like a container with plenty of promise. At 5L it has amazing capacity and could be used for pasta noodles (like macaroni), cereal (like Fruit Loops), or dry baking supplies (like sugar or flour). I like how the lid is offset to the side for easy access. Originally $14.99, the large plastic container is now only $7.50.
Now, the $5 or less section is also a great category to shop. These awesome Silicone Ice Cube Trays in shark-fin shape would make an excellent addition to any drink for kids and for adults. You could even make some inappropriate joke about shark-fin soup when you send one of these floating in your soup bowl. The moulds only cost $4.99.
Funky tea-infusers seem to be all the rage and this lovely little Swan Tea Infuser might just float your boat - or your tea. The infuser has a long neck for easily removing the tea infuser from your hot tea. Best of all, the tea infuser only costs $3.99. I bought a similar design for $9.99 in stores about a year ago.
There are plenty of other cute Starfrit accessories you can purchase on their website. I jsut picked out a few sale items and a few items naturally under $5 to highlight. This tends to be one of Starfrit's most popular deals so take advantage of it this weekend.
(Expiry: 23rd August 2015)