Sportchek Canada: Girl's Columbia Crushed Out II Snow Pants Were $80 | Now $40 & Free Shipping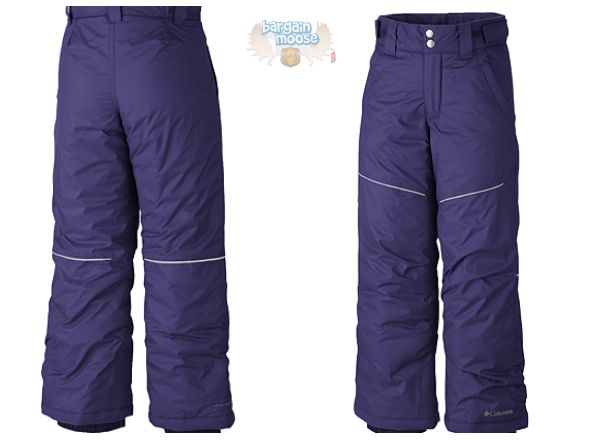 I recently found this cool site that counts down the days until winter. There are 135 days to be exact. I thought that number would scare me, but that's actually still pretty far away. But, back to school is in only a few weeks and before you know it, snow will be on the ground, that's how it seems to work. Last week I bought my son a snowsuit. Yes, in July, I bought a snowsuit, but it was a fabulous deal and I am not one to pass up a great deal even if winter is 20 weeks away. I would hope you aren't the type to do that either, because I found a fabulous price on some girl's Columbia Crushed Out II insulated pants (also known as snowpants). Regularly $80, Sportchek has them on clearance right now for only $39.88. They've also got free shipping on all orders right now, so these sweet pants will ship without extra fees today.
The black is already sold out, so you'll have to stick with the purple, but I love this shade of purple. It is a dark purple, so your daughter won't look like Rainbow Bright out on the ski slopes.My kids have Columbia snowpants and I love them. They keep them warm when the school says they have to be outside in the -24 degree weather. I totally don't agree with this policy as the city I used to live in capped recess at -15, but now I live in the North and that's what we've got to do. So, I have to keep my kiddos warm in brands that are known for their warmth, like Columbia.
The sizes available on these pants are medium, large and 2XS. I'm going to say that unless you know what size your child is in Columbia, you might need to look at this chart to figure it out. I don't see 2XS on that list so I'm going to assume it is a 2T, but before you buy, you might want to contact customer service to make sure you don't get some giant pair of snow pants for your 2-year-old.
The only other spot I found these pants in Canada, they were all sold out and the price was still higher than this. But, if you take a look at Columbia Sportswear's site, you'll see Columbia insulated girl's pants start at $70 regularly, so you'll want to jump on this at $40.
(Expiry: Unknown)