Spider-Man Dry Erase Table and Chair Set $20 @ Walmart.ca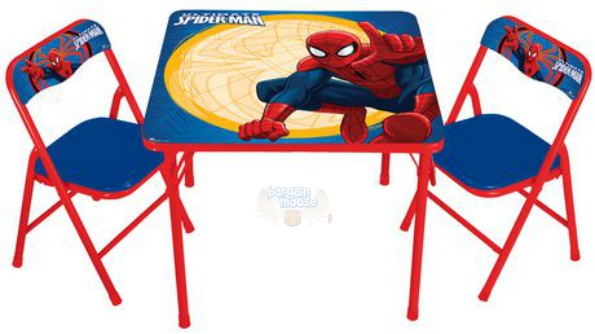 Walmart Canada is selling the Spider-Man Dry Erase Table and Chair Set for just $20 on clearance. While the online price shows the set was $24.88, that price is also a sale price. All my local Walmart stores are selling the table and chair set for $39.97.
This set will sell out quickly as the other dry erase tables have already sold out at this price today.
I tried price comparing this unit but I could not find it at any of the other stores that sell this sort of stuff for kids. Sears, Amazon, and ToysRUs do not stock this table and chair set. However, when I did find anything like this it was priced way above Walmart's price. A wooden set at Amazon costs like $200 - frightening!
The table and chair set has a folding table and two padded seats with patented Double Safety Locking Mechanisms for your child's safety. It looks like the chairs fold up so they could stand flat against the wall or be tucked in beside a dresser or such. I am not sure how the table folds, but I assume the legs fold in somehow.
The table and chairs are brightly coloured in the blue and red Marvel Spider-Man theme. Your kid will love the large Spider-Man on the table itself. This table is an excellent purchase for children who still have difficulties colouring inside the lines - or even keeping it on the paper. There will be fewer headaches for Mom and happier children, as they will not get in trouble for scribbling on the table.
The table is recommended for ages three to seven years old. With the set of chairs and table, the set also comes with three dry-erase markers.
Customers are very pleased with the product as you can easily see:
Assembly is super easy. Looks very nice and shiny. Unexpectedly sturdy. Doesn't look like a $20 item. Not suitable for kids 8 years or older as it is mentioned.
and...
I got this for my 18 month old grandson. And he just loves it. It's brightly colored, well cushioned and sturdy. I may buy another one to put away for when he wears this one out!!!
All the reviews are four to five stars except for one, where the reviewer said she couldn't give it a proper review as it was a Christmas gift and still in the box.
Receive free shipping on all Walmart Canada purchases.
(Expiry: unknown)