Sony SRSX5 Speaker $139.99 (Save $60) @ Dell Canada (EXPIRED)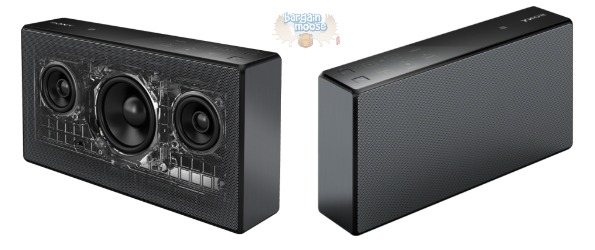 Dell Canada just started their 12 days of deals and some of them are so hot I think I just burnt myself ;) Score this incredible Sony SRSX5B Portable Bluetooth Speaker for just $139.99, saving $60 off the original price of $199.99. As with all purchases from Dell, you will also receive free shipping.
Now, you all know how much I LOVE my sound systems and my music. I am a little audiophile but I still am on a budget. Out of all the sound systems that I have blogged about, I have actually purchased this one myself. The last time I saw it for such a good deal, it was available online so I booked my butt out the door and picked it up at a local electronics store. This time, you can score this fantastic deal online from Dell Canada - no driving or fuel involved.
This is a popular model to be on sale this holiday season, which is how I scored this exact sound system a week ago. Here is what the competitors are selling the Sony SRS-X5 system for right now:
$149.99 @ Future Shop Canada (9 in stock)
$149.99 @ Best Buy Canada (10 in stock)
$159.99 @ Sony Store Canada
All those are sale prices and Dell Canada is undercutting all of them right now. Now, the Sony SRSX5 is one of the best speakers you can buy in the $200 range. On most tech review websites that I frequent, they tend to argue between the Sony SRS-X5 and the Bose Soundlink (retails for $219.99 and never goes on sale) as the best for the near $200 range. This Sony speaker boasts a 20 watt 2.1 channel speaker system, a subwoofer with dual passive radiators, and can detach from the AC cable for up to eight hours of battery life.
The sound is crisp, clear, and really fills a room. I am listening to mine as we speak. Pairing is simple and I have never had any issues or much delay with pairing. The only issue I experienced was an initial skipping when I went a bit far in range. However, that problem is completely gone as I can now go anywhere I like in the house with my phone and reception to the speaker is not an issue. Switching between battery and AC power is seamless as well. You can also use the speaker as a speakerphone, which I have done while I hung up laundry. In addition, the speaker acts as an external battery allowing you to charge your phone or tablet off it.
For my money, as is obvious by my personal investment, this is the speaker to buy. This is also a one-day deal, so pounce on it my little Moosers.
(Expiry: 9th December 2014 @ 6AM)