Shop.ca: Today only Save 15% on PlayStation SONY PS4 500GB Watchdogs with Controller Bundle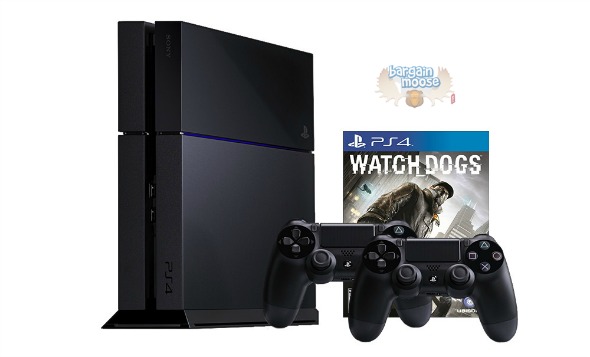 If you are looking to upgrade your gaming system or add a different platform to your repertoire, this is a pretty decent deal. The original price is $584.97, on sale for $499, a savings of $85.97.
For those of you who aren't immersed in the gaming world (don't worry, I'm not either), there are a few things you should know before you decide to surprise your man and upgrade his system for Father's Day. The PS4 is not backwards compatible, meaning if he has an older Sony Playstation system his games won't work on the PS4.
Despite the fact that I am not a gamer there are two features I personally appreciate. One is the PS4 also meets our DVD/Blu-Ray requirements thus eliminating the need to have a second device in our electronics tower. Secondly, if you are a Netflix subscriber, you can sign-in to your account through your PS4 and stream movies, etc., directly to your tv.
For the sake of price comparison, if you were to buy the the system, controller and the game separately, you are looking at approximately $565 so you are still saving money with this deal. For example at Amazon.ca:
Gaming system and price aside, I certainly don't have any experience with the Watch Dogs game itself. If the gamer in your life  enjoys first person shooters, I think this game will be a hit.  This reviewer summed it up pretty nicely:
This game is absolutely incredible. Even after having finished the campaign I keep going back to it, whether it is to complete extra missions, play in the fun online modes, experience the mini games, or just casually explore the open world. The game's mechanics and systems make for some very dynamic and rewarding encounters. Gameplay is king here, where you have a freedom in how to tackle situations that alot of other games just don't have. The graphics are gorgeous, and the atmosphere conveyed as a result of the graphics is truly stunning. The open world city feels alive, with each pedestrian having a story, and going about their daily lives.
As always Shop.ca offers free shipping on all purchases, no minimum required. Please note: No promo codes or bonuses are available with this offer.
(Expiry: 11th June 2014)