Shop.ca: Sennheiser Momentum On Ear Headphones Were $249 | Now $109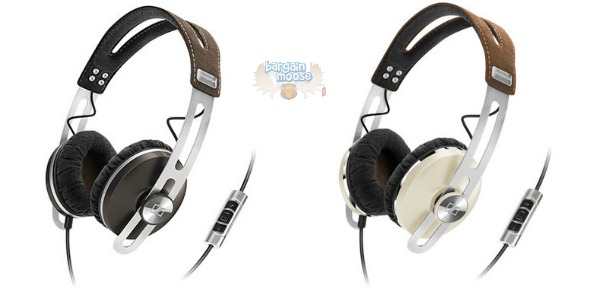 Sennheiser headphones seem to be extremely popular these days. I have to admit, they are gorgeous. Shop.ca has a Cyber Monday promotion going on, with the Sennheiser Momentum On Ear headphones, now only $149.99. If you use the Facebook coupon code that you can get by liking Shop.ca on Facebook, you can take off another $20 off and pay only $129.99. You'll also get free shipping on these headphones. The regular price is $249.99. UPDATE - use coupon code SAVECA40OFF99 to save $40 off $99 to get these for $109.99!
There are select colours for sale at this price point and they are selling out quickly, so you might want to hurry. The brown has only one left in stock. The green only has two left in stock. The ivory has five left in stock. The red has four left in stock.
As you can see, there are limited quantities. I wonder if they'll restock once they sell out. If you want the blue, it is only 12% off and not 40% like the rest. I think any of the other colours are great and I'd be happy with any of them.
Shopping around I found varying prices for these headphones, ranging from $269.99 at Best Buy down to $159.99 at Future Shop. Shop.ca's price beats them all, even before the coupon.
The headphones are also highly rated and have great reviews, like this one:
I first thought this on-ear headphone will be very uncomfortable like the ones I have in the past, I was wrong. I wore it for hours on and feel none of the typical sweating and irritation with the Momentum. The sound is clear with good bass (but not too much bass). It is lightweight and does not add a lot of bulk when stuffing it to my bag.
My oldest son wants something to listen to his music on for Christmas. I'm considering a few items, but headphones would also make a great gift as well, considering I don't then have to listen to the music he listens to. He has somewhat good taste, liking P!nk and Pharrell, but the One Direction isn't something I really want to hear. I remember as a kid having my own set of headphones, similar to these, but way cheaper, and I took them everywhere. As a teen, you want to drone out your parents and just listen to music.
(Expiry: limited quantities)