Shop.ca: Kids Native Jimmy Winters Boots Were $70 | Now $35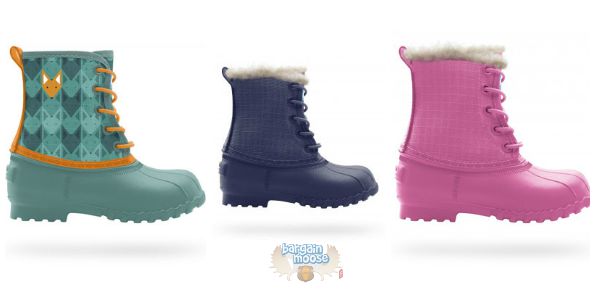 I am getting a lot of back to school shopping done this morning! I started with the labels, then the deal at Carter's OshKosh and now I'm going to buy all of my boys these winter boots! Working on a Sunday morning can pay off. I found these Native Jimmy Winters boots in varying colours all on sale at Shop.ca and they look perfect for our frigid Canadian temperatures. There are varying price points, but generally they are all 50% off.
I had never heard of the brand Native and reading about it, it sounds pretty cool.They are lightweight and casual shoes that are animal free (vegan), odour resistant, waterproof and lined with micro-fleece to keep those little feet warm. This style is a duck boot and there are varying colours and sizes available:
Trying to price compare these on the web, I didn't find the Jimmy Winters styles at too many shops. Here at Mini Mioche, they have two of the colours for $45.50, but you need to spend $100 to get free shipping. At ShoeMe, I didn't find the winters boots, but other Native boots sold for up to $80, with a minimum of $65. This really is the lowest price you are going to get them.
Shop.ca also sells other styles of Native boots at 50% off. Those styles don't seem to have the fleece inside so I'm going to assume they are more for fall and spring wear. This green/blue pair with the fox print is amazingly cute! Nothing can stop me from buying these up in a size 1 or 2 for $35.
They also have adult boots in the winter styles for 50% off. Your best bet is to buy a few pairs of boots at Shop.ca, because once you hit $100, you can use our exclusive coupon codes to get another $40 off! There are other coupons for higher value as your total increases as well, which makes spending more actually more lucrative for you! I bought three pairs of these boots for my boys and paid only $65 for all three pairs and of course got included free shipping.
I did read some reviews about the winters boots and it says they are mostly for west-coast winters, as the fleece is not thick enough to support an Ontario or east coast style winter. These would be good in November or March.
(Expiry: Unknown)