Shop.ca: Cuisinart Mini-Prep Bundle Only $100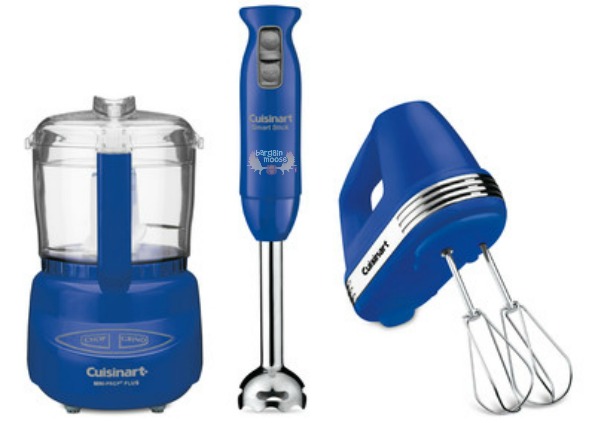 If you are looking for a handy bundle for the kitchen to give as a gift or for yourself, Shop.ca has a really great deal on Cuisinart kitchen prep appliances. Get the mini-prep bundle for only $109.99 (regular price of $150), then add our exclusive coupon code to get another $10 off and pay only $99.99. You'll also get free shipping.
This bundle includes the:
Mini-prep plus chopper/grinder
2-speed smart stick hand blender
power advantage 5-speed hand mixer
You can get this bundle in red, blue or yellow. It also includes a whisk attachment, blending attachment and chopper attachment for the hand blender, plus a 16oz mixing/measuring beaker for the hand blender. You'll also get a spatula for the hand mixer.
Price comparisons:
To show you how this is a really great deal, I couldn't find this in a bundle anywhere, so I had to price compare each item separately. I found the mini-prep food processor for the cheapest price at Amazon for $39.99. I found the hand blender at Future Shop for $53.99. I then found the hand mixer on sale at Kitchen Stuff Plus for $39.99. Adding these all together, you get a price of $133.97. Buying them together saves you the shipping at all of the stores combined and saves you another $34.
I think this bundle would make the perfect wedding gift or gift for someone who is getting their own place for the first time. None of the items are necessities that someone on a limited budget might purchase, but are kitchen tools that are very handy. I use my stick blender, mini chopper and hand mixer probably on a weekly basis. They make food prep just so much more easy!
Reviews:
Before you buy, you might also want to hear a few reviews of these products like this one for the mini-prep from Amazon:
This unit is perfect for chopping and grinding, ideal for small jobs if you are just two people as we are. I chopped cabbage, apple, and carrot, all done perfectly.
Also doesn't take up much counter space.
For the smart stick, this review is also from Amazon:
I received one of these for Christmas three years ago and love it. We use it almost daily while cooking (chopping onions, mincing garlic, making babyfood, pureeing soup etc) and it has withstood this heavy use well.
My only complaint is that there is only one speed - I would like this more if there were two.
Of course, like anything, there are poor reviews for these tools too, so you might want to google and have a read to see what the downsides are of any of these machines, but from what I see, these are definitely good buys, especially for the price.
(expiry: unknown)