Shop.ca: BOGO Free Imation A12 TDK TREK Micro Ultraportable Wireless Speaker Was $60 Each | Now 2 For $60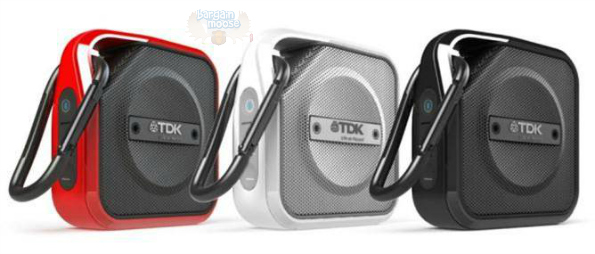 Shop.ca has a buy one get one free deal on these cute little Imation A12 TDK TREK Micro Ultraportable Wireless Speakers. Each speaker regularly costs $59.99, but with this deal you will only pay $59.99 for both, which brings it down to $29.99 each.
There is one catch to the entire deal: both speakers must be the same colour, you cannot mix and match. You have three colours to choose from:
The A12 TREK will fit in the palm of your hand and attach to your bag with the attached carbine for ultimate portability. It is rugged enough to handle dust and a few splashes along the way with the weatherized design. A six-hour rechargeable battery gives you plenty of juice, with two speakers covering you for a solid 12 hours if you do not pair them.
The little speaker can pair via Bluetooth or NFC-enabled devices. If your device lacks Bluetooth connectivity, there is an auxiliary input to plug in. In addition, an auxiliary output lets you turn your old sound system into a wireless Bluetooth receiver. I am sure the included manual will walk you through how to set that up properly.
Now, the beauty of this deal is how well two speakers work together. Pair two TREK Micro Speakers via TrueWireless Stereo (TWS) to enjoy listing to your music with stereo sound. I do not know many people who would go out and buy two of the exact same speaker, but with this promotion, you are doing exactly that so you can take advantage of this pairing feature that the speakers come with.
While I did not find the speaker at many other places while price comparing, here is what I found. Staples Canada sells these speakers for $59.99 each. Amazon has them for $49.98 (OOS), and NCIX has them for $50.66 plus shipping. A few smaller companies had them as low as $42.99 each, but the shipping costs defeated the minor savings immediately.
You can multiply this deal by two. For example, I loaded four speakers into my cart - two red and two white - and my total came to just $119.98. Thus, there appears not to be a limit as to how many multiples of two speakers you can buy as long as each pair of two is the same colour. You can have pairs of different colours, however.
All orders at Shop.ca ship for free.
(Expiry: 8th February 2015)