Shop.ca: 75% Off Bench Spaceit Dress - Now $19.99 & Free Shipping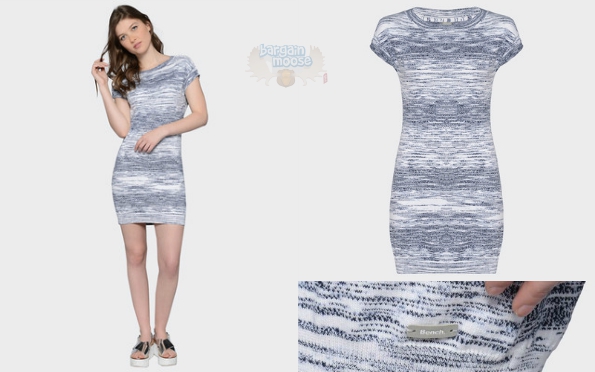 Shop.ca is offering an extra 50% off all sale Bench Clothing right now. I found this Bench Spaceit dress on sale from $79 down to $39.99 right now. Once you add the dress to your cart, an extra $20 is taken off, thus bringing the Spaceit dress down to just $19.99 - 75% off the original price. The dress will also receive free shipping and it is currently available in all sizes (extra-small through extra-large).
Free Shipping is the key to why Bench deals are better on Shop.ca than on Bench Canada's own website. Bench requires a $99 minimum for free shipping or you pay an extra $9.95 just to get some small item shipped to your home whereas Shop.ca has no minimum so you can just pick up a toque or a hoodie or a dress and not have to pay anything extra.
The sweater dress comes in a space dyed sweater fabric. It features a ribbed crew neck, rolled up sleeves, and hem with extended back. The entire dress has a really relaxed fit that is great for wearing alone or pairing with leggings or stockings. Taller women will find that this dress fits perfectly well as a tunic. Sweater dresses have made a comeback recently and are being added to wardrobes as comfortable alternatives for chilling out and going for coffee with friends.
Sweater dresses like this Spaceit dress by bench are also figure friendly. Essentially, the sweater material offers a lot of stretch. Thus, it is a good choice if you have a fairly curvy figure as the material will merely mould to your curves showing off your great figure.
There are many other great deals in the extra 50% off Bench section. I picked out both the Bench Miyah Sweat - Greymarl and the Spraypaints Jumper - Honey Suckle as alternative good purchases. Originally $89 each, they are now on sale for $44.99. Add then to your cart and each comes down to $22.49. I specifically chose these two tops because both tops still have all sizes still in stock. So many other tops are completely sold out the second you click on a size or only have one size left.
These are just some of the great deals you can find at Shop.ca.
(Expiry: unknown)