Shop.ca: 75% Off Bench Penaltyloop Dress - Now $29.99 & Free Shipping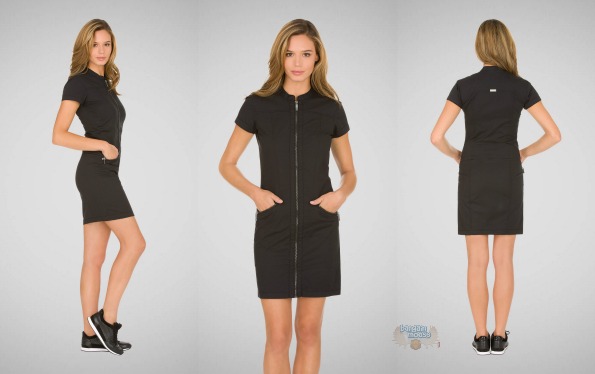 Shop.ca is offering 75% off the Bench Penaltyloop Dress. Originally $119.99, this dress is now on sale for just $29.99 with free shipping!
The dress is made of stretch poplin and features a zip up front from the bottom to the neck. Truly, this dress can be dressed up or dressed down. Add some jewellery, seamed stockings, and heels to dress the Penaltyloop dress up. Pair the dress with a pair of wedges or flats and keep it partially unzipped to dress the Penaltyloop down.
There are two front zippered pockets for storage. The seaming adds structure while the stretch poplin allows the dress to mould to your curves. The Bench logo is not quite as bold on this dress as it is on other Bench items. You will find the Bench logo on the metal zipper tabs and on a logo tab at the back of the dress.
Now, Bench Canada has this dress on sale for the same price; however, their shipping cost of $9.95 for orders under $99 makes Shop.ca's deal the best offer. Sizes extra-small, small, and medium are still in stock as of this time. One reviewer on Bench's website said:
This dress is so pretty and quality is very good as well. I ordered it online and I have been amazed by the excellent customer service!
If this dress is not your style, Shop.ca is offering up to 75% off Bench Clothing and accessories right now. The dress is one of the steepest discounts I found, but there are other good deals as well. This Bench Hall Kurt Scarf in greymarl was $35, and is now on sale for $9.99.
The Funnelneck Fleece is one of my favourite sale items, originally $79.99, and now only $29.99. I have owned one of these fleece jackets before. They are very warm and great for cool spring and fall days.
For an inexpensive tee, pick up the Bench Spinna Tshirt that was $49, and is now only $9.99. This men's t-shirt is both good quality, a good brand, and very affordable.
Lastly, this Bench Echo Despatch Bag is a steal right now! Originally $49, the bag is on sale for $14.99. There are only a few bags left in stock so hurry over to Shop.ca to purchase yours as soon as possible.
While Bench Canada is matching some of these prices, Shop.ca's free shipping on any order with no minimum makes their deal better.
(Expiry: Unknown)