Shop.ca: 20 Pairs Of HS Men's Socks Only $145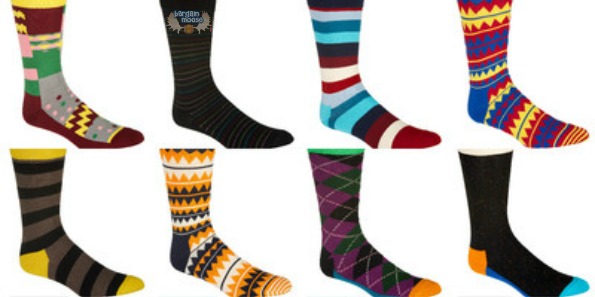 If you are looking for whimsical, fun and high-quality socks, you've come to the right place. Avi has blogged about HS Sweden socks numerous times and I've seen them come as low as about $9 a pair with a regular price of $13. This deal from Shop.ca gets you 20 pairs for $155, but you can also use our exclusive $10 off $50 to bring the price down to $145. This gets you the socks for $7.25 a pair, which is almost half the price of the original. You'll also get free shipping.
While I hate to mention Christmas again in a post, it is only four months away and your shopping time will tick away before you know it. Are socks not the ultimate gift for anyone? We all wear socks (even me, who is sort of a sock hater) and they're just not a fun thing to buy, unless you are excited about stripes and dots and more on your socks. I think this would make another great gift for my husband, whose socks look like he just came back from war. He likes being fun and taking risks with his clothing, so why not his socks? While it sounds like a lot to spend $145 just on socks, imagine how long they will last and at $7 a pair, that's a regular price for regular socks.
It says that they might not be the exact styles you are seeing, but that they will all be fun with crazy abstract patterns and more.
Yesterday a friend with a teenager told me that the new trend for teens is to not match socks. This is a score for me as I don't think I have a matching pair of socks for my kids right now. Somehow, the sock fairy has carried the other sock away for good. Also, my kids can't stand it when we do "sock sorting day" and I dump the huge pile of unsorted socks on the floor and force them to find pairs or at least something similar. Well, with this new trend, they don't need to. I think it would be super cool for them to have socks like these to mix and match. I'm sure most teen boys would fit into men's sizes of socks, so this might be a great buy for your boy heading off to school or starting high school.
(Expiry: unknown)