Sherlock Blu-Ray Seasons Under $28 - Up to 47% Off & Free Shipping @ Amazon.ca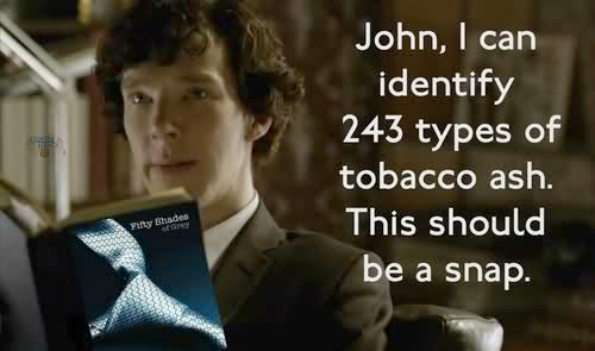 Currently, Amazon Canada has reduced all three Sherlock [Blu-Ray] seasons by up to 47% off their original prices. Season 1 was $49.98 and is now $27.49. Season 2 and Season 3 were $49.98 each and are now $26.49 each. Each season will come with free shipping as it retails over $25.
I am a big fan of the BBC's Sherlock series and I know a LOT of you are. The series really hit it big and jetted Benedict Cumberbatch into the spotlight. Overnight he became a well-known actor and a sex symbol at the same time. While production had to take a break for the filming of The Hobbit (which both primary Sherlock actors are in), Sherlock is still big and has a devoted fan following.
These seasons are an excellent price right now with Amazon Canada's discount. Here are two price comparisons to show you just how nice a deal you are getting. The same seasons in Blu-Ray at Best Buy cost:
Season 1: $41.99
Season 2: $39.99
Season 3: $38.99
I also price compared with the Canadian BBC shop (I would usually price compare with Walmart but they do not have any of the seasons - only the big box set).
Season 1: $39.98
Season 2: $39.98
Season 3: $42.98
As you can see, there is a staunch difference between the competitors and the prices at Amazon Canada. With Amazon Canada you also receive free shipping on any of the seasons (or all of the seasons), which just is not true for the BBC Shop.
I own season one and season two in digital form but I find that I rarely watch any of my movies or television shows that are in digital format. I am pretty old-school I guess: I still like to shove the disk into the player and watch them on my TV. That being said, I do own the first two seasons therefore I only need to buy season three right now. I am not terribly willing to fork over a lot of money for my entertainment, but this series is well worth it.
If you are familiar with any of the old Sherlock Holmes series, then you will love this reinterpretation and modernization of the stories. Yet, if you are new to the world of Sherlock Holmes, then you do not need any back information to enjoy the show.
(Expiry: unknown)