Select Wallpops Zoology Animal Wall Appliques Was $18 | Now $9 & Free Shipping @ Walmart.ca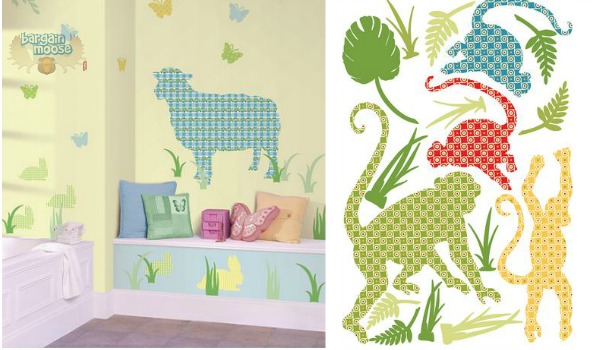 Check out the Wallpops Zoology Animal Appliques on clearance @ Walmart.ca. All three of these applique sets were $17.88 each, but are now only $9 each. Choose between Antoinne the Monkey, Riley the Giraffe and Betty the Lamb. Free shipping with no minimum is always included with Walmart.ca purchases.
I really like these repositionable wall appliques from Wall Pops. Each kit comes with a full page of designs. Each of these three applique sets was $17.88 but is now only $9 per kit. Several of us saw an original price of $24.98 so something glitchy is happening there. Either way the final price is a solid $9 per kit.
These designs easily peel and stick. If you change your mind and decide to put the monkey on the opposite wall, it is simple to remove and your paint will be intact. You can choose between three different animal designs including:
I did a little price comparing with Antoinne the monkey. These appliques will be more pricey if you choose to order them elsewhere. I found this same decal set at Home Depot.ca for $29.99. I also saw a third party seller on Amazon was carrying these decals for $37. Antoinne, you are a much better price at Walmart.ca.
Use one of these sets, or maybe even all three. I could see the monkey and giraffe going well together. For the same price, you would purchase one applique elsewhere, you could purchase all three at Walmart. Then when your toddler suddenly hates anything with lambs for no reasonable reason, you can surprise them with some monkeys.
No one seems to be reviewing this product. I would try it for this inexpensive price. I recently blogged another Wallpops design and someone mentioned the decals were difficult to peel from the paper and to take your time with that part of the project. They also said once the decals were removed from the backing, the decals easily peeled up and down off of the wall for repositioning, which is the more important part to me!
Everyone around me seems to be having babies lately. That means many different rooms are being redecorated. Some are for the new baby arriving, and often a second room for the bigger sibling is freshened up to reflect a big kid status. A fresh change of decorations can really brighten up your mood and make you feel ready for the new arrival in your family. For me it was a big mix of being excited and terrified. You could also easily use these for a playroom or some other type of play space… I know our basement play space could use some freshening up.
(Expiry: Unknown)