Sears Canada Free Shipping Until The End Of The Year! (Great For Christmas)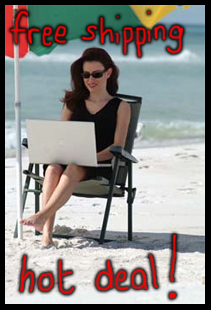 Sears.ca have just announced a special offer on their shipping charges – anything under 10lbs in weight will be delivered for free!! This offer will last until the end of the year. Their shipping fees are normally $6.95, so this is quite a handy discount! Save you having to go into the Sears store!
If your item is too heavy to qualify for the free shipping, you will be informed at checkout before you place your order.
This is absolutely great – especially for doing your online shopping to pick up all those little Christmas pressies for friends and family! I'm very partial to doing all my Christmas shopping online. I hate how crowded the stores get in the holiday season. I don't want to be a part of that seething mass of humanity! I'll sit at home on my computer chair and browse and buy to my heart's delight. Little deals like this free shipping from Sears really make all the difference!!
Like RobinB over at buckrobin.com, I share this sentiment: "I only go shopping when I absolutely have to!"
P.S. Don't forget to check for active Sears discount coupons to use on your order too.
Thanks for the pic ChuckStJohn.
- Anna