Seagate 4TB External Hard Drive Only $110 @ Amazon Canada *HOT* (EXPIRED)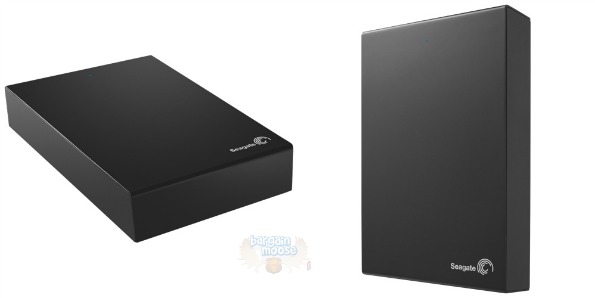 Be quick little moose and jump on this one-day deal at Amazon Canada for a Seagate Expansion 4TB Desktop External Hard Drive USB 3.0 (STBV4000100) for just $109.99! You are saving around $40 to $60 off the nearest competitor's prices and you receive free shipping on your purchase.
This is a large hard drive at a very good price. When I price compared it at other retailers, here is what I found:
$144.99 + $5.99 shipping @ Newegg.ca
$169.99 @ Future Shop Canada
$169.99 @ Best Buy Canada
$189.99 @ Dell Canada
As you can see, Amazon Canada is really sporting an amazing deal on this hard drive. We have blogged about this hard drive deals before but this is one of the best deals we have every see per TB. To give you an example, before this, the best deal I had seen on an external hard drive was this 5TB Seagate for $140. If you divide the price by the number of TB, you come to $28 per TB. However, the deal I am blogging today - a 4TB for $110, comes out to just $27.50 per TB. It beats the other deal by 50 cents per TB. Granted that is not an earth shattering amount, but as a deal hunter it is good enough for me.
A 4 TB hard drive is more than enough space for all the movies and pictures I will ever need to store. I remember when you were lucky to find a 1TB hard drive for around this price so I am always amazed to see how far we have come in producing hard drives. This hard drive features USB 3.0 for faster transfer times. I have a 1TB external hard drive from OMEGA, but it is USB 2.0. That one thing makes me want to buy a new hard drive as it takes forever to back up my laptop.
There are many good reviews of the Seagate hard drive like this one:
Recently bought this HDD to store my movies and shows. It was an easy thing to do, truly plug & play. Also the TV (LG) recognizes the drive and I can control as if it were a Blu-Ray (even turn subtitles on/off). I am contemplating buying another one so that I have one for movies and one for TV Series. In either case, this is a great buy, well worth the money.
This deal is only on for TODAY - so pick it up quick before it jumps back up another $40 or so. As this hard drive costs over $25, you will receive free shipping.
(Expiry: 3rd December 2014)