Saxx Men's Vibe Modern Fit Boxer Were $32 | Now $10 & Free Express Shipping @ The Last Hunt (EXPIRED)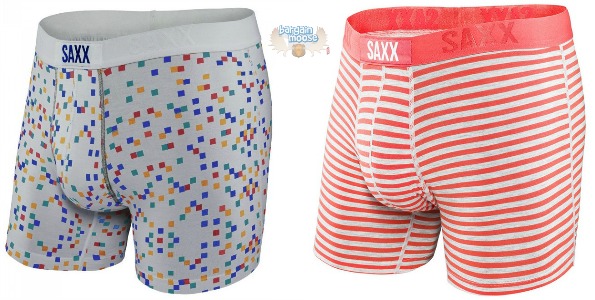 Here is a sweet little find for a guy who likes to keep everything comfortable downstairs. Check out the Men's Vibe Modern Fit Boxers that were $31.99 but are now only $9.99. Use our coupon code to receive completely free express shipping.
These are underwear with some Saxx appeal. Ok, I could not resist the pun. If your eyes are not already drawn to the image of these boxers, look again because these boxers have some awesome patterns. The man wearing these boxers has an eye for comfort and a sense of humour. A sense of humour can be very attractive, check out this study quoted in Jezebel. I am not sure where I heard it, but somewhere once someone told me life is too short to wear boring underwear. Many of us are stuck in a pattern of black, white, grey and beige. Break away from those black boxers and mix up your underwear drawer. These boxers were also featured on Dragon's Den. You can check out the pitch on CBC.ca. This pitch goes a lot more in-depth about the construction of the underwear. Though the company owner did not get the deal from the Dragons, several years later Saxx underwear is found sold at many major retailers so this company is doing something right.
The Men's Vibe Modern Fit Boxer will give you the supreme quality that buyers expect from Saxx underwear. These boxers have a slim, tailored fit when you compare with a boxer brief. You may be a complicated man who has many different sides to your personality. These boxers will help you hold it all together with nine individual panels sewn together for comfort and flexibility. The waistband is a thick 1 3/8" waistband that wicks moisture away from your skin. These boxers are made of a mix of a natural fiber called viscose and a little bit of spandex for extra stretch.
You cannot pick up this well-constructed underwear at this price anywhere else. I looked at the Saxx Underwear website, and both of these patterns will cost you $22, with some other patterns running as low as $19 in the sale section. Live Out There carries both of these boxer patterns and many others for $31.99. Sportchek.ca has the same style of boxers in several other patterns for $31.99. Shop.ca carries a several pairs of these boxers in a similar stripe pattern for $35.
Reviews
The few reviews I have seen on this style of Saxx boxers are positive. Here is a happy review I found over on Sportchek's website that talks about the material. I was curious about the material as I am not very familiar with viscose.
Ultra soft stretch viscose made from natural fibres for a fabric that is lighter weight, breathable, wicks moisture, and comfortable.
Shipping
Our free shipping code will give you free shipping. I noticed when I popped that code in my cart, you can also choose one business day shipping free. You may still have time to get these boxers here for a Father's Day gift if you order quickly.
This is a great price for boxers that will hold you all together. Buy now before your size is gone. Dad's eyes will light up if you gift him these boxers, I can almost guarantee!
(Expiry: 17th June 2015)