(Save 75%) Glade 4 Pack Holiday Candles Only $3 & Free Shipping @ Walmart.ca (EXPIRED)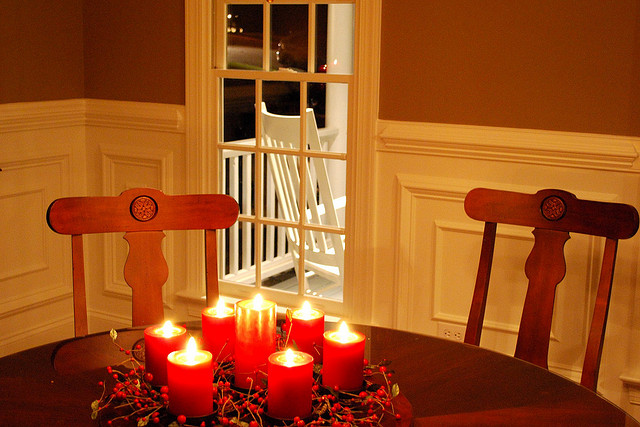 Walmart has their holiday scented Glade Candles on clearance today. They were $12 earlier this season but now are discounted down to $2.99. With free shipping and no minimum you can have these delivered to your door easy as 1, 2, 3.
The smell of the holidays is still lingering in my house. Luckily, unlike the smell of teenage boys or wet boots, the holidays bring all kinds of good smells into my house. The smells of the holidays are distinct and delicious. Grab this deal and you can either stock up for next year or keep that yummy smell from the holidays going just a little longer. Use that smell to help you beat the January winter blues.
For this deal, that is less than $1 per candle for a candle that is bigger than a votive. Each set includes 4 jar candles that each are in their own glass jar. I much prefer buying smaller candles like these in a glass jar so I do not have to worry about wax dripping everywhere. This size is perfect to put on the bathroom counter next to your sink, for when your bathroom needs freshening. In my house thanks mostly to my husband, the bathroom needs freshened a lot. According to Glade's website this size candle should burn for about 28 hours.
First up is the Glade Holiday Candle 4-pack in Apple Cinnamon. Apple Cinnamon is a scent that I like having around much longer than the November and December holiday period. I usually start busting out apple cinnamon scented candles and air fresheners in September and can still be found using them up until about February or March. March or so, I start switching to more springtime scents. You still have a good run on these candles before they are really starting to be out of season. Plus Apple Cinnamon is just a pleasing homey scent that makes any house smell lovely.
The other option for sale is the Glade Holiday Candle 4 pack- Mixed. The pack includes one of each of the following.
Apple Cinnamon Cheer
Sparkling Spruce
Gingerbread Jingle
Holiday Citrus Medley
Walmart does not list the scents out on their website for the mixed pack but I compared it on Glade's website yet again. As this is a Walmart exclusive pack, I was able to locate the matching holiday scents based on the icons on the package on Glade's site. That citrus one might be iffy but it seems to be the best match when comparing it to this year's selection of holiday scents. If it were me, I would burn the Apple Cinnamon and Citrus Medley candles now and keep the Spruce and Gingerbread for next holiday. It will be just like opening up a Christmas present next holiday season when you unwrap these candles.
Bargainmoosers, how long do you keep the holiday scents burning after the holiday? Do you consider Apple Cinnamon a Christmas scent or an all fall, winter, or even year round scent?
(Image Credit: twbuckner)
(Expiry: Unknown)