Save 60%! Danube QTR Strap Sandal Was $100 | Now $40 & Free Shipping @ Hush Puppies Canada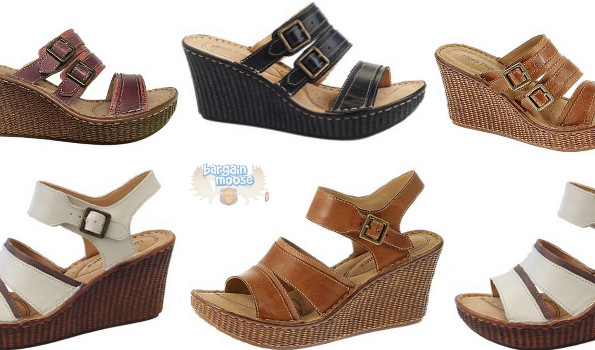 Here is a cute, strappy pair of sandals for with those summer dresses. The Danube QTR Strap Sandal Was $100 and is in the outlet section for $79.99. Right now, you can take an extra 50% off all outlet items with a coupon code and score them for only $39.99. You will also receive completely free shipping with this deal.
If you have never worn Hush Puppies shoes, then your feet are missing out on some serious comfort. Use the coupon code 060215 to score some great deals in the outlet section. Hush Puppies make solid shoes that are supportive, comfortable and cute. This was one of my go-to brands when I wore heels to work every day for the office because they would stand up to an entire day on my feet.
Ladies if you are looking for a cute pair of strappy sandals that will offer some comfort too, you need to check out the Danube QTR Strap Sandal. These stylish shoes are available in both white and tan. The suede footbed has latex foam added to the foot to create a soft and fluffy "pillow effect." I am a big fan of walking with pillows strapped to my feet, especially when we are talking about heels. These 75 mm wedges have leather across the toes and have full traction along the bottom. No sliding around in these heels. Most ladies should be able to find their size below:
White: 6, 6.5, 7, 7.5, 8, 8.5, 9, 9.5
Tan: 5, 5.5, 6, 6.5, 7, 7.5, 8, 8.5, 9, 9.5, 10
I also found another cute platform heel with more colour selection, the Danube Slide. These shoes were $100 and are on sale for $89.99. You can score them for only $44.99. These shoes have very similar features to the Danube, just in a slide format. Again, we are talking about walking in a higher shoe with pillows attached to your feet, sounds dreamy. Here is what the sizing and colours look like for these slides with a wedge.
Tan: 6.5, 8, 8.5
Black: 6, 6.5, 7.5, 8, 8.5,10
Mauve: 6, 7, 8, 8.5, 12
While this coupon code is good for a little while, the selection is already starting to slim down. If you want to grab a pair of these Hush Puppies shoes, you may want to shop early while there is still more sizes. In addition, if you need a pair of fashionable boots, I recommend checking out some of those options in the outlet section, as there are many to choose from.
(Expiry: 15th June, 2015)