Samsung Wi-Fi 16.2MP Camera $79.99 @ Future Shop (Save $70) (EXPIRED)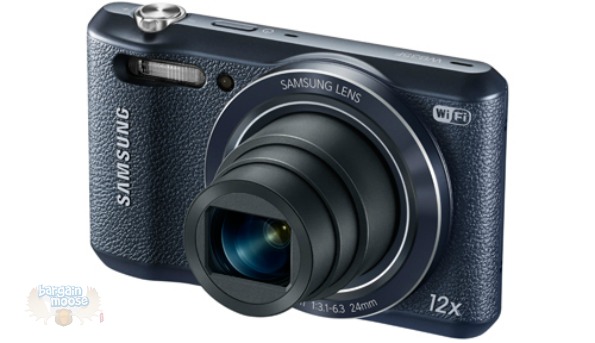 As part of Future Shop's 12 days of deals they are featuring a Samsung EC-WB35FZBPBCA Wi-Fi 16.2MP 12x Optical Zoom Digital Camera for just $79.99 with free shipping. You save $70 and score a good camera for a great price.
I expected Best Buy to price match Future Shop as they are sister stores. However, that is just not happening on this deal. Check out the price comparisons below.
$99.99 @ Best Buy Canada
$149.99 @ Henry's Canada
$157.63 @ Amazon Canada (secondary seller)
$95.97 US @ Amazon.com
The price at Future Shop even beats the price of the US giant Amazon.com if we lived in the USA and could get it shipped free from them. This is the best deal for this camera that I have found on the net. The camera features:
16.2-Megapixel CCD Sensor
2.7-Inch Display
12x Zoom
Wi-Fi Connectivity
720p HD-quality MPEG video
Live Panorama mode
This camera really packs many features into its small body. I love the HD video feature. Though I do not record many videos, there are some times when on vacation that only a video would really capture the moment. I regret not using that feature more on my camera. The large display helps you get a sense of what your picture will look like printed out. I find a large display very important for taking good quality pictures the first time. The 16.2 MP and 12x zoom are going to be amazing and really will show you why having a camera in addition to your phone is worthwhile.
Amazon.com is a great place to look at reviews like this one:
Really like the camera, fits in your pocket and give excellent pictures. Used on trip to San Juan and loved it, I took my larger camera but found I was using the Samsung more because I could send pictures to my phone and text to friends. Really nice purchase.
That is another feature I would die to have on my DSLR - Wi-fi. It drives me insane that I cannot just send images once I take them. Instead, I have to pop out the SD card, load them onto my computer, and then upload them to an email or Facebook. This camera looks awesome.
(Expiry: 12th December 2014)