Salton Harley Pasternak Power Blender Was $350 | Now $140 & Free Shipping @ Shop.ca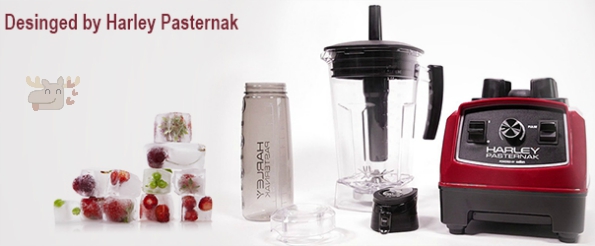 Pro blenders are all the rage these days but one of them can easily cost you $300+. The Salton Harley Pasternak Power Blender is on sale from $349.99 down to $199.99. Use our exclusive coupon code MOOSE60OFF175AUGUST to receive an extra $60 off your blender. That brings the Salton Power Blender down to just $139.99 with free shipping at Shop.ca.
This amazing blender features eight blades of blending, crushing, emulsifying, and liquefying action. Four of the blades are saw tooth and four of the blades are ultra-sharp angled blades. The Harley Pasternak POWER Blender is designed to liquefy whole fruits, vegetables, and ice without any problem or un-blended food. The powerful 2 HP motor with variable speed control and pulse action can crush ice in mere seconds. In my KitchenAid Blender, ice stalls the blades,
You can prepare both hot and cold food in the blender. Smoothies, soups, and sauces are at your beck and call. The cloverleaf shaped of the jar with a curved bottom creates a cortex when blending that eliminated pockets of unblended food. While I prefer glass jars, the two-litre BPA free Tritan jar is pretty durable. The set also comes with an on-the-go bottle, tamper, and a Harley Pasternak approved colour recipe book.
While this blender is no longer sold for its original price at other places, it still has a fairly high retail value averaging around $250. Here is my price comparison of current prices at other retailers:
$249.99 @ Hudson's Bay Canada
$249.99 @ Best Buy Canada
$299.99 @ Canadian Tire
$229.99 + $5.54 shipping @ Amazon Marketplace
The blender is well loved wherever I found reviews. People are very impressed with the performance. One reviewer on Best Buy said:
love it alot, only con so far is small seeds get stuck,under blades. comparable to the other 2 high end competitors ( vitamix and blendtec)
Another Best Buy reviewer also thought this blender competed with the big boys:
Does everything it claims at a fraction of the cost. I compared the Blentec and Vitamix before purchasing and we are very pleased with this unit. We've only used it for making smoothies' so far but it chops the ice, nuts and fruit easily.
As this is the fraction of the price of a Vitamix and yet performs comparatively, I think this is a fantastic deal.
(Expiry: Unknown)