Safety 1st Audio Baby Monitor & Safety Bundle Was $70 | Now $28 & Free Shipping @ Best Buy Canada **BUMP**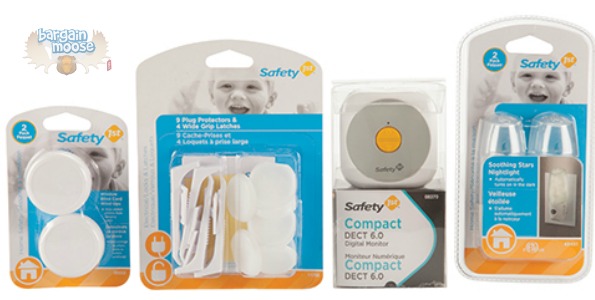 **Bumping this hot little deal up today. The price is even sweeter than last time!**
Do you have a baby on the way? Time to baby proof!  The Safety 1st Audio Baby Monitor & Safety Bundle was $70 but is now on sale for only $29.99 $27.99. This item also meets the $25 minimum for completely free shipping!
When you have a new baby joining the family, safety is always on your mind. As you first become a parent you glance around your home and suddenly notice many terrifying things you never noticed before. A rectangular glass coffee table goes from looking chic to imagining bumps and bruises in only a few months. Electrical outlets in your home suddenly look like a frightening place for little fingers.
Whether you have a new baby or just have a baby gift to buy, this Safety First package is a nice little set. Inside the bundle, you will find the following items:
Safety First Compact DECT audio monitor with 1000 foot range
Two nightlights to keep you from stubbing your toe in the middle of the night
Four latches to keep cabinets closed tight from little fingers
Nine electrical covers to keep little fingers out of harm
Window blind cord wrap to keep strings out of babies reach
One year limited warranty on parts
I feel a little safer just writing about all that safety gear! Seriously, this is a nice bundle to get you started kid proofing your home. When I brought my kid home, I had a tiny apartment. Whenever she was sleeping, I kept an audio monitor with me for peace of mind. I also always took a compact monitor similar to this one when I traveled. It was handy when I was visiting my family to have a compact little monitor for my suitcase. I could relax more while she slept knowing I would hear her cry.
I am not finding this exact bundle sold anywhere else in Canada. I did find the baby monitor sold several places. As the monitor should be the most expensive item in the bundle, I thought we could look at the prices for just the monitor only.
Even if you were only interested in the monitor with no interest in any of the other safety products, this bundle is still a better deal. While I do not see any direct reviews for this bundle, Safety First is a known leader in the market for baby proofing safety items. Of all the places I found the monitor, I only see one review. The reviewer liked the monitor overall but said the charger stopped working.  Your new bundle includes a warranty for a year which should give you peace of mind.
Pick this up now and you will be ready for your baby or for your next baby gift. This item is only on sale for a limited amount of time.
(Expiry: July 9th 2015)