Robeez Canada: 40% Off Paige Soft Sole Boots + Extra 10% Off + Free Shipping (EXPIRED)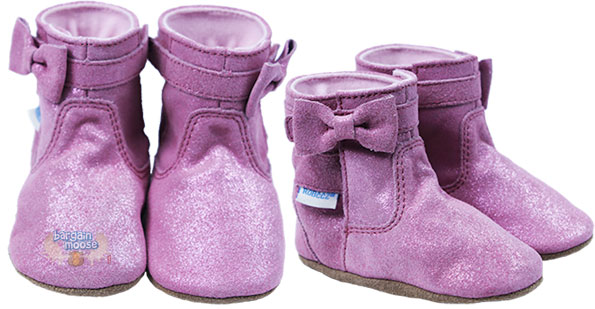 No Minimum Monday may already be over but free shipping offers are still in abundance. In fact, Robeez is currently offering absolutely free shipping on any order and I found the cutest girls' boots that you can get shipped for free! The Robeez Paige soft sole boots are on sale for just $19.99 (reg. $32) and you can an extra 10% with the Robeez coupon code:  LL2GAW to get them for just $17.99.
The Paige boots come in either pink or grey, although I would say that the pink ones are more purple than pink as you can see by the picture above. They're a soft sole boot best used indoors and feature a comfortable sole that is flexible. Although the Paige boots are only available in an 18-24 months size, I thought they just were too cute not to showcase. No worries though because there are plenty more items on sale at My Robeez for both girls and boys.
For boys, found the Dress Man mini shoez, which come down to $19.79 from a sale price of $21.99 (reg. $36). These would be perfect for a Christmas party but also for those of you looking to take Christmas-themed pictures this month of your little one. Since they're all black, they are sure to match any outfit and even better is that you won't have to worry about having to constantly put them back onto your little one's fees because they feature an elastic at the back to make sure they stay put.
Of course, you can also take advantage of this free shipping offer and the aforementioned Robeez coupon code to get regularly-priced merchandise. I'm particularly enamoured by the Fab Folk soft sole boots for girls. Priced at $40, they would come further down to $36. Although they're best suited for light activity and indoor use, they look super cute and best of all, are flexible and are made with a non-slip suede surface. All too often I have come across baby shoes that seem just too rigid and uncomfortable but these ones look like they could be worn all day long, perhaps even in lieu of slippers.
The free shipping offer is definitely a much welcomed treat as Robeez usually only ships order over $50 for free but don't delay as this offer will expire on December 15th. As for the other sale items, including
(Expiry: Unknown)