Puma Suede Crib Sneakers Were $30 | Now $12.60 USD & Free Shipping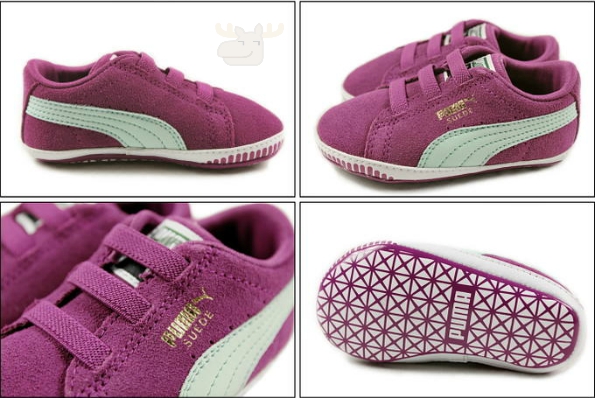 It is never too early to stick a pair of little booties on your child to protect their feet and keep them from sucking on their toes. Puma Canada has discounted these adorable Suede Crib Sneakers from $30 down to just $18. Use coupon code LABOURDAY15 to take an extra 30% off your order, thus bringing the little suede shoes down to $12.60 USD (All prices are in USD).  Receive free shipping on any order with no minimum right now at Puma Canada.
Four of the five colours offered are discounted (drizzle-high risk red is still full price). You can choose from strong blue-black, beetroot purple-Peach Cobler, vivid viola-bay, and black-sharp green. Most colours have all sizes - one through five - still in stock. As Puma charges in US currency, these shoes would have been $39.70 CAN and will now be around $16.67 CAN.
I cannot think of anything more darling than these baby sneakers. The little suede sneakers are made of quality suede leather and feature the distinctive Puma Formstrip at the sides. The suede upper has perforated detailing and a non-slip screen print on the outsole. The Puma logo is woven on the tongue and there is also a logo on the heel.
While these look like they may lace up or use Velcro, they actually are made to slip on and slip off little feet. They have a removable Kinder-Fit sockliner that is simple to clean: just throw it in the wash. These are simple little shoes for dainty little feet. The shoes are also designed to be lightweight: a size one weighs in at just one ounce.
Sometimes currency conversion intimidates people, but Puma Canada covers all duty/customs so you only pay for your items. With free shipping, a deal like this is well worth the currency exchange because these shoes still come under $17 Canadian, which is an excellent price for real suede sneakers.
Blue and purple have a few sizes already sold out but the other two colour options still have full stock between sizes one through five.
(Expiry: 7th September 2015)