Puma Poly Fleece Jacket Was $70 | Now $28 & Free Shipping @ Puma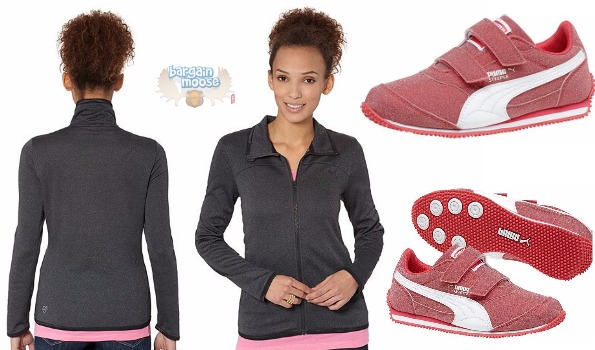 Grab the slim and sleek Puma Poly Fleece jacket today available in grey. This jacket was $70 USD but is currently on sale for only $28 USD.
It is finally springtime here in Canada, which means most days you still need a lighter jacket most days as the weather transitions. I am spending a lot of time out in my backyard right now, so I need whatever I am wearing to be durable and stand up to my abuse. Right now, I have my eye on the Poly Fleece Jacket over at Puma that is now on sale 60% off.
No matter how you choose to stay active, whether it is sports, outdoor exploring or just walking the dog, you need a good lightweight fleece jacket in your wardrobe. Fleece can be warm and stands up to wind quite nicely. Fleece also wicks away moisture very well, which makes it perfect for a true athlete who may get a little sweaty. I like to throw a light fleece jacket like this in with me when I go camping, as sometimes in the evening it can be a bit chilly. Fleece layers easily, making it a good choice for hiking when you are going in and out of the sun and shade. This particular jacket is close to the body so you retain a more feminine look.  Sizing is looking good. You can pick one up in extra-small, small, medium, large or extra-large. This price is only available for the grey jacket, which should match almost everything.
Price Comparison
I was not able to find this jacket anywhere else in Canada. A sport-style fleece jacket is generally going to cost you between $60 and $130. For example over at MEC.ca the MEC Ruby jacket is available for $99. Over at Live Out There, the Columbia Fleece jacket is $59.99.
Shipping & Fees
Puma is offering free shipping to Canada right now for a limited amount of time. Puma does ship from the US, but any taxes and duties are calculated in your cart. The only downside is the price is in USD so you will be subject to the exchange rate. I checked and right now, we are looking at $1.21 to every dollar, but that can fluctuate throughout the day. You can check the rate before you buy. I watch that exchange rate pretty close, and it is looking better for Canadians compared to what it was a few weeks ago.
Need another reason to shop? I cannot resist the Steeple All Over Glitter Kids Sneakers. These cute pink and glittery shoes were $58.50 USD but are now $28.50. These shoes are darling in the pink colour and you know your little girls feet are supported as she runs and plays.
(Expiry: Unknown)