Osprey Tablet & Laptop Backpack Was $150 | Now $45 + Free Shipping @ Live Out There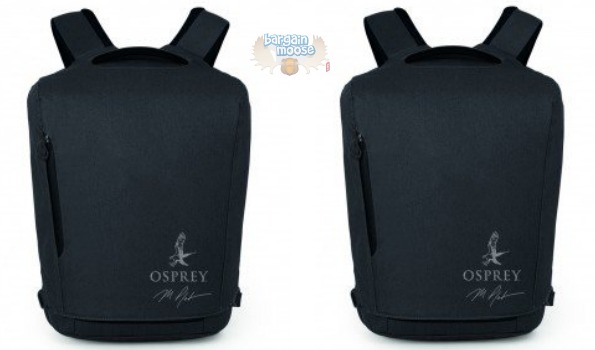 The Osprey Tablet & Laptop 40th Anniversary Pack is on final sale @ Live Out There now for 70% off. This pack designed to hold your tablet or laptop was $150 but now is only $45. Free shipping is available with every order @ Live Out There.
Live Out There is having a mega clearance sale with items up to 70% off. Check out this sleek solution for your laptop or tablet on the go. The Osprey Company designed this sleek pack that was $150 but is now only $45.
Osprey is known for building quality and rugged hiking backpacks that stand up to big adventures. They have applied the same technology to this slim pack designed for commuters to hold your laptop or tablet in a slim bag. This pack is perfect for someone who likes to commute by bike, train or bus. Maybe you like to take adventures in city and need to keep your tablet or laptop close. I could see this pack being useful for a student who wants a lighter bag. I could imagine this pack working well for someone who likes to use their technology close out in the woods.
This backpack is slim and sleek. It comes in a neutral black colour and fits a laptop that is up to 14ʺ/36cm. This pack has several pockets to keep you organized. It has a pixel pouch that allows you to access a tablet without pulling the device all of the way out of the backpack. Simply lift the flap to check your device, then hop back on your bike or train and be on your way. I could see that feature coming in handy when you have saved directions or maps on your iPad, whether you are wi-fi enabled or not. I often will calculate my directions at home on my iPod touch and snap pictures of the step-by-step directions. Since I do not have wi-fi on the go, this is a great cheap alternative to a GPS. I would also use this pack to read my book on the train when I am hoping on and off the metro quickly between stops.
I found this exact media backpack at Amazon.ca for $89.95. This is a special edition backpack and seems to have cleared out of most of the other stores. I also found a comparable Pixel Media backpack at Altitude Sports for $160. The Osprey Unisex Spin 22 is also a similar comparable media bag that I found available at Altitude Sports for $160. Osprey's media bags do not seem to be carried many places in Canada. I would consider this a close buy to a SwissGear Backpack. A similar laptop backpack that is a little bigger and made by SwissGear is retailing for $86 at Amazon.
There are not any reviews available on this pack, I suspect since it is an anniversary edition. Most of the hiking backpacks that Osprey makes seem to have high ratings. The comparable media packs that I mentioned are available at Altitude Sports also both have five out of five stars.
Bargainmoosers, what do you use to stash your tablet or laptop on the go?