On Clearance Now - 6 Station Swing Set Only $90 + Free Shipping @ Walmart.ca (EXPIRED)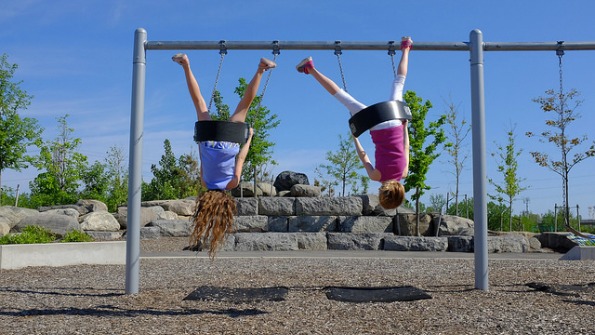 Spring is just around the corner, Bargainmoosers! On clearance now is a 6-station swing set for only $90 @ Walmart.ca. Free shipping with no minimum is included in this order.
If you were looking for a great little swing set for the kids this spring, look no further. Walmart is offering this great little 6 station set on clearance for only $90. It will be a great surprise for the kids come spring. Plus when you tell the kids to go play outside they will have a place to start with all of their adventures. Better that they hang on this swing set than jump on your couch or "sled" down the stairs inside.
This set has a lot of good jumping off points. Ok that was a bad pun; my kid will literally be jumping off of this thing. It includes a slide, two swings so there is less fighting, a teeter-totter that will probably be rode by only one kid at a time and a trapeze style-swinging bar.
I had a little trouble with this one and you may too. When I opened this deal in my Google Chrome browser it was showing that the deal was $138 and you could only pickup in your local store. Fellow Mooser Anna insisted it was a better price and lo and behold, when I popped the same link into internet explorer I could see the better $90 price. If you are having trouble getting the right price I recommend trying different browsers or refreshing your browser so you do not miss out.
I found the Safety First version of this swing set that includes a few more play features @ Sears with a hefty price tag of $370. Canadian Tire has a more modest swing set for $229 that is much more similar to the Walmart set. Amazon.ca's offering is closer to $850 and is only a 3 piece set, oi!
The reviewers on this swing set love the product overall. It does seem on the smaller side so this might be a better buy for a younger kid, perhaps not intended for a 10 year old. Most are saying set-up is a pain but what kid's toy with parts is not a pain these days. I need a map just to put together the dollhouse I bought. Here is one reviewer of the swing set.
Delivery of this item was prompt and the packaging is surprisingly smaller than you'd expect. Assembly is a 2 person job for best results and takes a couple hours. We noticed that the plastic caps used to cover screw and bolt heads were pretty cheap and broke apart easily. The slide seems a bit small for any child over 2-3 years old. My 2 year old has lots of fun with it though. Overall pretty sturdy and it looks nice. (Spring 2014)
Pick up this set now and hide it in the garage or basement. It seems like the packaging is small enough it can wait out the winter in storage without getting in the way very much.
(Image Credit: Andrew Badgley)
(Expiry: unknown)