71% Off Cuisinart 9" Loaf Pan Was $25 | Now $7.19 after Coupon & Free Shipping @ Newegg (EXPIRED)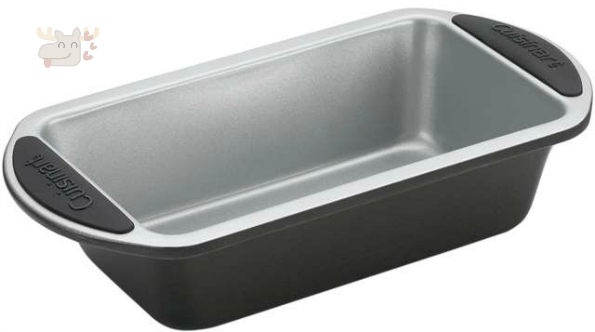 Hello cooks and bakers! Newegg Canada has a selection of Cuisinart cooking and baking supplies on sale and we have an exclusive coupon code for an extra 10% off select items. I found this Cuisinart 9" Loaf Pan that was $24.99 and is now on sale for $7.99. After our exclusive coupon code MOOSE810NWG to bring the cost for the loaf pan down to $7.19 with free shipping.
There is another sweet Cuisinart deal I found as well that is mentioned below, but this one takes the loaf! These loaf pans are perfect for small casseroles, small lasagnas, breads, loaves, and many more fantastic dishes. After price comparing this loaf pan elsewhere, I was convinced this is a hot deal.
Here is what this SMB-9LPSC Cusinart loaf pan sells for at other online retailers:
$24.98 + shipping @ Best Buy Canada
$28.99 @ Shop.ca
$16.98 + shipping @ Amazon Canada
I like this loaf pan because it has silicone easy grip handles and thick rolled edges to prevent warping. Better yet, the pan is made with heavy gauge steel for even heat distribution. If you are a baker, then you know how important this is. I love the non-stick interior and exterior as this will prevent drippings from being caked on the outside while allowing me to easily pop my loaf out.
While I have not quite got in the habit of baking bread, I do like to make loaves. I just made two pumpkin loaves a couple of weeks ago and they were decadent. It is a shame I forgot salt in the second loaf though. However, my loaf pan could use replacing as it is a bit stained from being used. This loaf pan comes with a lifetime warranty!
There are a couple other deals I want to mention. The Cuisinart CTG-07-SSC Solid Spoon is a fantastic price right now. Originally $11.99 and now $4.99, the spoon comes down to $4.49 after coupon. The same spoon costs $19.99 at Shop.ca and is on sale for $7.99 at KitchenStuffPlus and Best Buy Canada. Newegg Canada's price was the lowest I could find anywhere and you receive free shipping on just the spoon if you want.
Both of these deals are pretty awesome and I am happy that our exclusive coupon code brings the prices down a little more. There is a limit of five per customer.
(Expiry: 16th August 2015)