Neiman Marcus (US) Coupon: Orders Of $100+ Duty Free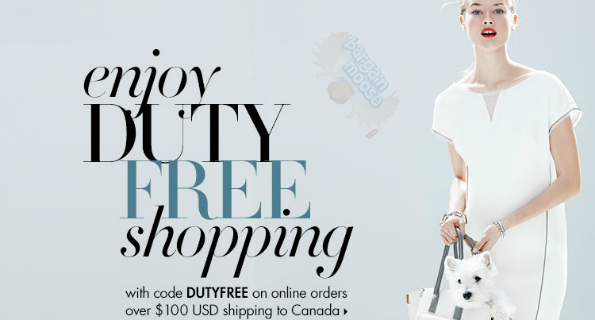 Neiman Marcus is a well-known and well-loved company in the USA that has been previously inaccessible to Canadians. However, recent changes have lowered their international shipping charges and now have all duty calculated and charged at checkout, so you are not hit by outrageous landing fees. Even better, right now Neiman Marcus is offering us Canadians duty free shopping on orders of $100+ with the following coupon code.
Click here to shop @ Neiman Marcus (US) now
Coupon Code: DUTYFREE
Discount: no duty on orders of $100+ USD
Expiry: 30th June 2014
You also receive free international shipping on orders of $100 USD or more so - really - what are you waiting for?
I know where I am spending my next few hours: in Neiman Marcus' sale section. Over the past few years I have often found exactly what I wanted at Neiman Marcus only to be put off by shipping and duty charges, so this offer has me positively drooling. Appropriate local taxes still apply to your offer. You must select the "prepay duties and taxes" option at checkout to qualify.
There are so many amazing deals in the sales section. This stunning Halston Heritage Cap-Sleeve Ponte Illusion Godet Dress, Dark Cadmium was $395 US and is now $138 US. I applied the coupon code in my cart and then went through checkout. It indeed only charged me my local tax rate, and did not charge me any duty fees whatsoever. The dress also qualified for free shipping. What a fantastic combination of deals!
If you have the patience for the clearance department, you can find many items that have one size left in stock with huge discounts. This Donna Karan Asymmetric Convertible Tunic was $850 and is now $297. This Tropical Floral-Print Bead-Trim Cardigan was $195 and is now $68. This Go Silk Shirt with Faux Leather Trim is one of my favourites at only $51, originally $148. Even though Marcus carries many designer goods, they still have an amazing amount of clothing for those on a budget.
I will totally be spending a few hours on Neiman Marcus today, going through their sale and clearance sections looking at my favourite designers like McQueen, Burberry, and Valentino. I have already found one top I am considering purchasing because it is already $300 off and with no shipping costs and no duty, I only have to pay tax. To bring hard-to-find designer clothing up from the USA for so cheap, I am practically in heaven.
Prices are in USD.